Posted on
Fri, Aug 26, 2011 : 5:58 a.m.
Parents object to Ann Arbor busing plan, but officials stand firm for now
By Tom Perkins
More than 70 parents met with several Ann Arbor Public Schools officials Tuesday night to express their unhappiness with a new busing plan, but administrators made clear they're making no changes before school starts.
In an effort to reduce transportation costs, the district created "common stops" and cut the number of bus stops at the high school level from 60 to 30. That means students in the Arrowwood Hills Cooperative will have to walk nearly a mile to the nearest common stop, which is at Northside Elementary School, to catch the bus to Skyline High School or another school destination.
About half the parents at the meeting Thursday night represented students from Arrowwood and another half represented those from the Foxfire Subdivision who attend Logan Elementary. Several other parents representing children from various schools around the district were also present.
The parents are asking district officials to place another stop in their respective neighborhoods because of concerns about their children walking a mile down roads like Pontiac Trail or Dhu Varren Road to get to stops or school.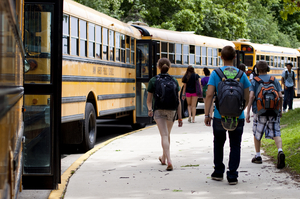 Jeffrey Smith | For AnnArbor.com
But straightaway, officials made clear that no routes or busing schedules would change before school starts on Sept. 6. Instead, there will be a two-week assessment period in which administration, drivers and supervisors will focus on problem spots. Administration will then make a recommendation on any changes to the school board on Sept. 21.
"If we see something comes up and it, for lack of a better word, becomes an emergency situation we will correct that," said Robert Allen, the district's director of operations.
The new busing routes are part of a plan to reduce $15 million from the budget this year. The transportation changes account for around $1.3 million of those cuts.
District Spokeswoman Liz Margolis said the plan originally called for the elimination of all high school transportation, but the district transferred $300,000 out of its fund equity to allow for some busing.
"Frankly, we have to cut in a lot of areas where we aren't pleased we have to cut, and one of those is in transportation," she said.
Students at the elementary and middle school level who live within 1.5 miles of their school will no longer have regular bus service and be required to walk to school or go to common stops, unless the district finds a special safety concern. All high school students will have to walk to common stops or directly to the school or provide their own transportation.
Tom Moore is director of transportation for the Washtenaw Intermediate School District. Ann Arbor schools contract with WISD to provide transportation. He explained in some cases, parents live more than two miles from the nearest common stop. In those cases, the common stops are intended as "drop off and pick up zones" for parents to drop off students to catch the bus, he said.
He also said per Michigan law, the school district is not responsible for the students until they board the bus. He said parents are responsible for their safety on the walk to the bus stop and while waiting at the stop.
Officials said common stops' locations were determined by assessing population densities in different areas and the safety of the stop where children would be picked up.
Moore explained "safe routes" for students to walk to common stops have sidewalks along main roads and crosswalks or lighted intersections for crossing the main roads. He said subdivisions where speed limits are 25 mph or less and there are no sidewalks are not considered a safety hazard.
Dozens of parents spoke during a question-and-answer session, and many expressed concerns over specific roads where they said there wasn't adequate lighting or sidewalks. They said under the plan, their children would be walking up to 45 minutes in the dark and snow during winter months. Several invited officials to make those walks with a book bag on their backs.
Kaaronica Evansware who lives in Firefox and has a child at Logan, said the budget savings aren't worth the risk.
"Our risk is our children's ... well being," she said. "If one of our girls is raped, if one of our kids is kidnapped, $15 million (in money saved through cuts) is not enough to award a parent for one of their kids' lives."
James Anderson is a parent of three children who will be affected at three different schools. He asked why the WISD never consulted the parents when developing plans for common stops. He contended parents are most familiar with the routes students will walk and possible dangers .
"We know better than you where those common stops should be," he said. "Did anyone ask people most affected?"
Several students and parents also pointed out that students would have to wake up much earlier than before to walk to the common stop and catch a bus to their destination school.
"If you are thinking about achievement gap, this isn't going to help," said Ann Carrellas, who lives in Arrowwood and has a daughter attending Skyline. "Kids are going to be tired, they aren't going to be focused."
Jeri Schneider is also a mother of a Skyline student and lives in Arrowwood. She said there are a handful of neighborhoods where parents are asking for a bus stop and told officials she didn't believe it would cost much more to have them.
"Why can't we do these few additional stops?" she asked. "It's just a little bit of extra time and a little bit of extra gas."
When directly asked how much it would cost to add an additional stop, officials said they did not know.
"We will evaluate that," Moore said.
Several parents said they wanted the school board to hold a special meeting on the issue. Three board members are needed to support a special meeting and board Vice President Susan Baskett and Trustee Simone Lightfoot were present. They told parents to write and call other board members and urge them to call a special meeting.