Posted on
Mon, Jan 30, 2012 : 10:53 a.m.
Parents often skip booster seats when carpooling, U-M study finds
By Cindy Heflin
Many parents who regularly put their children in booster seats often don't insist on them when carpooling, a University of Michigan study finds.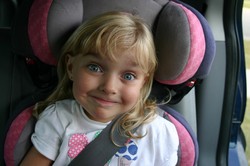 Gabriella Mayrend strapped into her booster seat in the car 2010
Researchers at U-M's C.S. Mott Children's Hospital found that more than 30 percent of parents don't require booster seats when their child is riding with another parent. The study also found that 45 percent of parents don't require their own children to use a booster seat when there are other children in the car who don't have one.
"Practical barriers," such as limited vehicle space and difficulty making arrangements with other drivers are likely to blame for the failure to use the seats, U-M researchers said.
Results of the study were published online today in the journal Pediatrics.
Booster seats are recommended for children who have outgrown regular child car seats, typically around age 4.
Most state laws require children to use a booster seat, many until children are 8 years old, U-M said. National recommendations encourage the use of booster seats until a child reaches 57 inches, the average height of an 11-year-old.