Posted on
Thu, Jul 12, 2012 : 5:58 a.m.
The audacity and inventiveness of Ann Arbor Art Fair parking
By Rich Kinsey
Ready or not, Ann Arbor, here it comes next week — the 53rd Ann Arbor Street Art Fair. There will be an abundance of sights, sounds, tastes and smells that only come once a year to the peaceful hamlet on the Huron. For those who work downtown through the Art Fair, there will be blood-pressure-spiking problem of parking and longer-than-normal lines at your favorite spots for lunch — a small price to pay for the arts and added commerce to the city.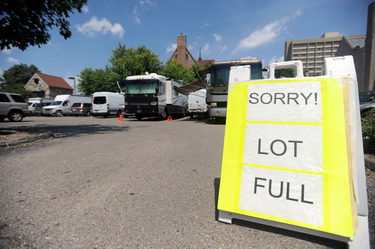 Angela J. Cesere | AnnArbor.com file photo
In Ann Arbor, parking is for the most part enforced by the Community Standards Unit, which is an arm of the Ann Arbor Police Department. With parking at such a premium in the city, we should all thank our lucky stars that these men and women of the Community Standards Unit brave the elements and insults each day to do their job.
Parking enforcement is, as the late Jack Webb would say about police work in general, "an endless, glamourless, thankless job that's gotta be done." Community Standards officers will have their hands full next week.
By this time next week we will all marvel at the inventiveness, audacity and, in some cases, disrespectful way in which visitors will jam their vehicles on the roadside, parking lots and lawns in the name of PARKING.
Ann Arborites will experience what I am told is an everyday occurrence in New York City, where car bumpers are used as springs for others cars to bump and ram their way into tiny parallel parking spots.
Some motorists need more than the normal visual cues while parking. These individuals need the tactile feeling of the bump of the obstacle they are parking near to know if they are close enough. Some officers refer to this technique as "parking by Braille."
All manners of parking violations will be displayed next week in greater numbers than a normal week. The most dangerous parking violations are the ones that may cause a police officer to blow the dust off his book of parking tickets — police officers much prefer catching an actual criminal or traffic violator in person to hanging a parking ticket or towing an innocent inanimate vehicle.
To avoid the ire and a costly ticket from one of my brothers or sisters in blue, I offer an explanation of why some parking violations are just more dangerous than others.
For instance, double parking "just for a second" is both dangerous and illegal. It is dangerous because it causes traffic to come to a standstill in many cases. Worse than that it can cause spillback through the intersection behind the offending vehicle.
Spillback is a condition where traffic backs up through an intersection and thus blocks the way of motorists on the side streets even when the traffic signal changes. Spillbacks can domino backward in all directions and cause gridlock.
Double parking can thus cause huge problems. Double parking will usually draw an angry stare and gesture to "move it" from an officer passing an "occupied" double parked car.

The exception to this is if the officer sees that the double parking is to accommodate someone with a disability that needs help getting into the double-parked vehicle. Officers may even allow a delivery truck to double park for a moment if all the loading zones are filled on the street.

Barring those exceptions, if you double-park you will get a parking ticket and you might get towed. If you ignore an officer's glare and gesture to move the vehicle and the officer makes it around the block to find you still there — you will probably be issued an "impeding traffic" traffic ticket, which has a stiff fine attached.
Tow away zones also will be strictly enforced. Tow away zones are there for a reason. For instance, you will always see them in front of theaters and music halls. Those are to allow for rapid egress in the case of a fire.
Other tow zones and "No Parking Between Signs" are placed where parked vehicles would not allow larger vehicles like delivery trucks from turning into or out of an alley or driveway.
Tow away zones are placed at intersections downtown to allow an unobstructed view of oncoming traffic. These tow zones are for emergency vehicle parking as well.
A close cousin to the tow away zone is the "No Parking On This Side of Street." Those signs are place on narrow streets. Those streets are not wide enough for fire apparatus to pass if both sides of the street are parked full. Therefore, these violations are often issued. One car parked on the prohibited side of the street quickly becomes an epidemic during Art Fair.
Parking left to curb on a two-way street is another potentially dangerous violation that draws enforcement attention. For sharp drivers in a strange town, cars parked left to curb — especially near an intersection — panic the driver that they have entered wrong way onto a one-way street. Parking left to curb also involves driving left of center to get parked. It is an inconsiderate and lazy way to park.
Blocking a driveway also is an inconsiderate place to park a vehicle. It prevents the rightful owner or tenant from entering or exiting their own driveway.
During Art Fair one car might park with its tail a foot or two into the driveway and then some other equally rude driver will park with the hood a foot or two into the driveway, and voilá the driveway is blocked. I call this "conspiracy to block a driveway." Both will have to be ticketed and towed. Private property parking complaints will also be a huge problem during the fair.
My own personal favorite parking ticket to write is blocking the sidewalk. If you have ever seen someone in a wheelchair, pushing a stroller or visually impaired try to navigate around a car blocking the sidewalk — especially in the winter — you will understand why I wrote those tickets.
One former Michigan basketball coach made the mistake of boldly parking his brand new red Mercedes convertible across the entire sidewalk on East Liberty by the old Lamplighter restaurant. The tow truck was just pulling away, I was just finishing the paperwork — ticket and impound form — and putting my car in drive, when the coach came out of the bar across the street. From my rearview mirror I saw him take a loving glance across the street looking for his new toy and bellow, "HEY MY CAAarrrr….." Selective auditory dysfunction kicked in and I drove the paperwork to the station explaining to the shift commander the owner might be calling soon.
Be careful where you park next week, and remember PATIENCE is the word of the week during Art Fair.
Lock it up, don't leave it unattended, be aware and watch out for your neighbor.
Rich Kinsey is a retired Ann Arbor police detective sergeant who now blogs about crime and safety for AnnArbor.com.