Posted on
Thu, Apr 15, 2010 : 6:04 a.m.
Parking meter plan pushing forward despite objections from downtown Ann Arbor businesses
By Ryan J. Stanton
Back home in Portland, C.W. Jensen says city officials have raised on-street parking rates and expanded enforcement hours.
"It just keeps people away from the city core, which shouldn't be happening," he said as he visited Conor O'Neill's Irish Pub while in Ann Arbor on business Wednesday.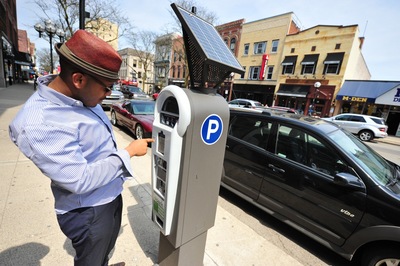 Ryan J. Stanton | AnnArbor.com
"We have the same kind of machines in Portland, and they expanded the hours and they increased the price of it," Jensen said. "And what it does is it causes people — when they're making choices on where to spend their money, where to go to restaurants or where to go to movies — to go out of Portland. And so, if you want to drive business to your downtown core, this isn't the way to do it."
The Ann Arbor Downtown Development Authority is expected to issue a report to City Council on Monday that lays out a comprehensive plan for managing the downtown parking system. The aspect of the report getting the most attention is a proposal to extend parking meter enforcement hours from 6 p.m. to 9 p.m.
That proposal — coupled with continued parking rate increases — has several downtown businesses upset with the DDA.
"I just don't see the logic behind it right now with the economy the way it is," said Ali Ramlawi, owner of Jerusalem Garden, a Middle Eastern restaurant on South Fifth Avenue. "We should be trying to get more people to come downtown and have it more affordable. We shouldn't be putting more obstacles in the way for consumers."
It currently costs $1.20 an hour to park at a metered spot downtown between 8 a.m. and 6 p.m. Monday through Saturday. Parking is free on evenings, Sundays and all federal holidays. The DDA's proposal would extend the hours to 9 p.m., but offers the tradeoff of a free hour of parking from 8 a.m. to 9 a.m.
The Main Street Area Association recently came out in opposition to the changes, saying one hour of free parking in the morning isn't enough. Board member Tony Lupo said the association opposes the extended hours altogether, but if they must be implemented, there should be at least one hour of free parking after 6 p.m.
"I think overall we want to create a welcoming atmosphere downtown," Lupo said.
DDA Chairman John Splitt said the DDA's Operations Committee finalized its plan on Wednesday and looks forward to presenting it to the council next week. He said the plan doesn't include changes suggested by the Main Street Area Association.
Splitt, who owns Gold Bond Cleaners downtown, also sits on the board of the State Street Area Association, which unanimously approved a resolution in support of the DDA's plan this week.
Splitt said the expanded enforcement isn't about increasing revenue for the city or the DDA. He said it's primarily to encourage turnover on the street and make more parking available to customers — which DDA officials think will be good for businesses.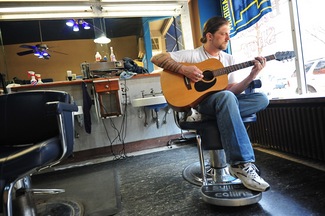 Ryan J. Stanton | AnnArbor.com
"We've had our own interns out looking at what happens on the streets in the evening and people park at 5 o'clock or 4:30, put a dollar's worth in, and remain there for the rest of the evening," he said. "It's the same thing that would happen during the day if we didn't charge for parking during the day. The folks who get down here first who work down here would have their cars on the street, and customers wouldn't have any place to park."
Caroline Kaganov, general manager of Conor O'Neill's, launched a petition in opposition to the expanded hours when the proposal first was introduced in December. She gathered signatures from hundreds of downtown employees, business owners and customers that were submitted to the City Council, which then delayed voting on the issue.
"Obviously no one wants to pay more for something, but if it's something they are going to do, they should do it with some kind of free component like a couple hours of free parking in the structure," Kaganov said, echoing the position of other Main Street businesses.
Ramlawi of Jerusalem Garden said the only reason he can see for the increase is to raise parking system revenue for the city and DDA and increase the number of tickets being written.
"It's not going to make the city more welcoming for out-of-town visitors," he said. "I mean, there's nothing worse than getting to your car and seeing a parking ticket. That says, 'I won't come back downtown. I won't bring my dollars here.'"
Splitt said the DDA isn't looking for money.
"The point in the city asking us to do this is that it's a small part of a larger picture, and so they were talking about generating revenue by going into areas that didn't have parking meters," he said. "I think the DDA feels that anything you look at needs to be part of the big picture. I don't know at this point, without actually instituting things, if we know exactly how it's going to affect revenue. The parking system needs a certain amount of revenue to operate, so we're going to safeguard the overall health of the parking system certainly, but in terms of what the impact of whatever we institute is going to be, I'm sure we're going to want to keep it revenue neutral."
Ryan J. Stanton covers government for AnnArbor.com. Reach him at ryanstanton@annarbor.com or 734-623-2529.