Posted on
Wed, Sep 14, 2011 : 12:29 p.m.
Part-time lecturers at EMU vote on first-ever union contract
By Kellie Woodhouse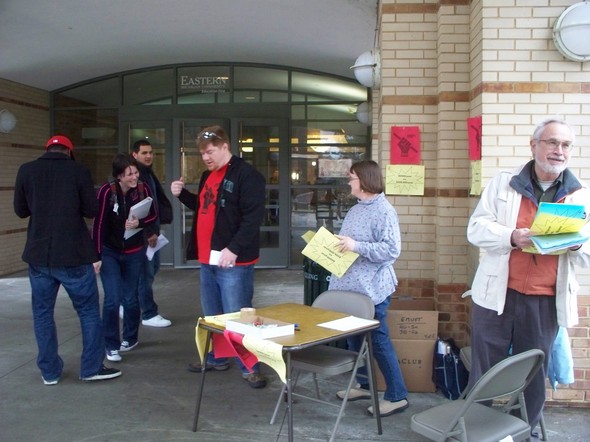 Eastern Michigan University Federation of Teachers members Zack Jones, Sonya Alvarado and Tom Wagner talk to students in April 2011 about the part-time lecturer contract.
Part-time faculty at Eastern Michigan University will be voting on their first-ever union contract today and Thursday.
The contract is the effort of a newly created bargaining unit —representing about 600 contingent lecturers— of the EMU Federation of Teachers, a union that represents the non-tenure-track faculty at the school.
The unit marks the first time in EMU history that part-time faculty have union representation.
"It really gives the part-time faculty some stability that they haven't had before," said EMUFT President Sonya Alvarado, a full-time lecturer of English composition and dramatic literature at the university. "I have seen a lot of my part-time colleagues that are award-winning scholars leave the university because they would get an offer somewhere else at a higher rate."
A spokeswoman for EMU said the university could not comment on the contract until it's ratified by the majority of EMU's contingent staff and approved by the EMU Board of Regents at their Sept. 20 meeting.
The university and the union reached an agreement over the summer. Part-time faculty voted to affiliate with EMUFT in the summer of 2010.
Alvarado says she expects the agreement to be approved by both the EMUFT adjunct membership and the EMU regents without dispute.
According to Dave Dobbie of the American Federation of Teachers more and more bargaining units for part-time lecturers are being created throughout the country.
"There's been a big surge in organizing among part-time faculty in the last 10 years," Dobbie said. In Michigan, there are seven AFT-sponsored bargaining units for continent faculty.
"It corresponds with a big shift with who the faculty in these institutions are," Dobbie continued. "Thirty years ago, most of the people teaching in a place like Eastern would be full-time tenure-track faculty, whereas now 70 percent are part-time non-tenure-track lecturers."
The contract, Alvarado said, does three very important things for adjunct faculty: Creates an official pay scale, sets an evaluation process and mandates that contingent faculty be given longer terms of employment under certain circumstances. EMUFT secretary and part-time lecturer Zachary Jones says the new pay scale "is the strongest part of the contract."
"Before, there was some contingent faculty getting $600 a credit hour and now the floor has been raised to $1,125 a credit hour," Jones said. "It makes us more competitive and helps us keep talent here."
In addition to their credit-hour rate, contingent faculty who have lectured at EMU for at least eight semesters will now receive a longevity payment. The payment varies from $100 to $400, depending on how long the adjunct has taught at EMU.
With the new contract, longevity also creates more job security.
If a contingent lecturer is evaluated positively and teaches enough classes within a certain period of time, EMU must offer that lecturer a two-semester appointment.
Such a benefit is possible with the newly established evaluation process laid out in the contract. Currently, there is no formal evaluation process in place for adjunct faculty, according to Alvarado.
Without the contract, a part-time lecturer's "evaluation was whether they asked us back for the next semester," said Jones.
"There was no evaluation process. That is one of the key factors here with this contract: We want to be evaluated," Alvarado said. "This is a very important, a very key element. We want to grow as instructors to be the best that we can be for our students."
If the contract is ratified, part-time faculty will be evaluated in four ways, including a self-evaluation, a class observation conducted by someone from their department, student feedback and by a review of their course syllabus.
With the contract, a formal grievance process has been established for complaints. Additionally, part-time faculty also receive benefits, including two days paid leave per semester, three days bereavement leave and tuition assistance.
For Jones, the 50 percent tuition discount is his favorite part of the contract. Jones, a geography lecturer, is pursuing his doctorate at EMU.
"Prior to this, part-time faculty weren't offered any tuition assistance or professional development," Jones said. "This will dramatically cut down what I have to pay."
Jones said the new allowances offered by the contract —the increased pay, longevity rewards, tuition assistance and benefits— were reasonable requests by the union.
He said EMUFT did receive some pushback from the university because of state funding cuts, but that ultimately an agreement was reached.
"Their claim was that we have to regenerate that $11 million (in cuts), so we have to raise tuition and we cant provide as many benefits to our contingent faculty," Jones said.
Alvarado said that given the economy and the "timing" of the contract, EMUFT had to sacrifice getting heath care for part-time faculty. She said that despite some difficulties in the bargaining process, EMUFT is happy with the end result.
"We got what we consider, under the circumstances, a very good contract with some good benefits and good salaries," she said.
Kellie Woodhouse covers higher education for AnnArbor.com. Reach her at kelliewoodhouse@annarbor.com or 734-623-4602.