Posted on
Tue, Feb 2, 2010 : 5:39 p.m.
Patricia Lesko, the voice behind A2Politico, to take on Ann Arbor Mayor John Hieftje this election
By Ryan J. Stanton
One of Ann Arbor Mayor John Hieftje's most vocal critics is about to take a shot at ousting him from office.
Patricia Lesko, a Democrat who admits she thrice voted for Hieftje but now finds herself at odds with him politically, has launched a Web page declaring her candidacy via Facebook. She's also tweeting it.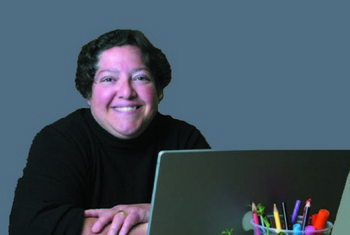 Lesko, a grassroots political activist who has been a vehement critic of the current council majority, has spent the last several months anonymously running the blog A2Politico.com under the pseudonym "Sam Rosenthal." Her posts are often filled with venomous attacks against Hieftje and other city officials.
For the first time, Lesko publicly acknowledged today she is the masked blogger behind the A2Politico moniker.
"For me, A2Politico was an opportunity to have a discussion about the policy decisions being made by our elected officials, and that's something that's really important I think," she said. "With A2Politico, the idea behind it was and still is to comment - sometimes critically, always constructively - on those policies in a way that hasn't been done before. Has my goal sometimes been to create outrage? Absolutely."
Hieftje, who has been mayor since 2000, said he doesn't know Lesko very well, but knowing she's behind A2Politico, he knows he's up against a tough critic - one he claims doesn't always get the facts straight.
"I don't really read it - I have it in my spam filter," he said. "But people will sometimes send me stuff and everything I've read has turned out to be completely false."
Hiefte and Lesko will face off in the August primary for a chance to advance to the November general election. No one else has announced plans to run yet.
Lesko has more than two decades of experience in marketing, management and finance. She says she's running for mayor because she wants to change the direction public policy has taken under the current administration's watch. "My campaign is about moving the focus of city government back to the basics: people, services, infrastructure, and responsible spending," Lesko said in a written statement today.
Lesko is publisher and CEO of a national higher education publishing group headquartered in Ann Arbor called Part-Time Press, which publishes professional development materials.
Lesko has been involved in several local political campaigns aimed at ousting incumbent office-holders. This past election cycle, she managed the unsuccessful campaigns of Hatim Elhady, who ran against Council Member Marcia Higgins in the 4th Ward, and LuAnne Bullington, who ran alongside Stephen Kunselman against Leigh Greden in the 3rd Ward.
Lesko lost in a race against Sandi Smith in 2008 for one of the 1st Ward seats on the City Council.
If elected, Lesko would be the second openly gay mayor in Michigan, and one of only 21 openly gay mayors nationwide. She also would be only the third woman to serve as Ann Arbor's mayor since the city's incorporation in 1851.
Lesko said she believes Ann Arbor needs a mayor prepared to work with council members to tackle the serious challenges that face the community. She points out spending on government overhead has increased 35 percent since 2006, by $33 million dollars per year - spending she vows to rein in.
Commenting on the fact that the University of Michigan's acquisition of the former Pfizer property took $1.2 million in tax revenue away from the city, Lesko says she would propose a PILOT program - or payment in lieu of taxes -Â to raise $4 million to $6 million in additional revenue each year.
"MIT has been paying the city of Cambridge PILOT payments since 1928, and Harvard has since 1968. PILOT programs are nothing new to world-class universities with billion-dollar research budgets," she said. "I am prepared to do whatever needs to be done on behalf of the citizens of Ann Arbor to get a PILOT in place."
Lesko calls the city's switch to single-stream recycling a "$6 million mistake" and "an environmentally regressive policy shift." She also believes city employees' pension and health care plans need to be restructured, and the savings should be reinvested in the city.
She argues the current administration has reduced the number of police and firefighters, yet the city is still paying $13 million per year more for emergency services than it was in 2005. She said gaining the trust of unions will go a long way toward reducing costs.
Lesko also vows to work to halt the downtown Library Lot underground garage project currently under way. She says floating the bonds for the project was a costly mistake, and she has an "exit strategy" that will save $70 million to $80 million. Lesko grew up in Dearborn and also lived in Wyandotte. A resident of Ann Arbor for 28 years, she moved here to attend U-M, where she earned undergraduate and graduate degrees.
With her partner of 19 years, Marjorie Winkelman Lesko, she is the mother of two sons, Bram, 9, and Lane, 12.
Lesko said she hopes to have votelesko.org up and running soon. Ryan J. Stanton covers government for AnnArbor.com. Reach him at ryanstanton@annarbor.com or 734-623-2529.