Posted on
Mon, May 14, 2012 : 2:23 p.m.
Pay-to-play fees sideline kids in 19 percent of low-income families
By Danielle Arndt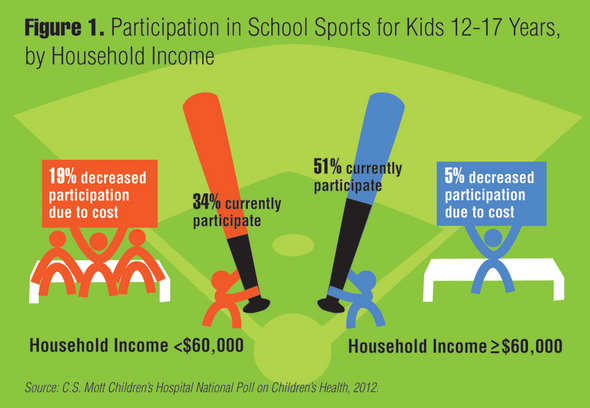 Pay-to-play fees for athletics are preventing lower-income children from participating in middle and high school sports, a new study from the
University of Michigan
C.S. Mott Children's Hospital
shows.
Nearly 1 in 5 low-income parents reported that cost forced their child to cut back on sports, said U-M's National Poll on Children's Health.
The new study asked parents of teenagers, both in middle and high school, nationwide about participation and the price tag on playing a sport at their schools.
It found 61 percent of children were charged a pay-to-play fee. The average fee, according to the poll, was $93, while 21 percent of respondents paid $150 or more.
Combined with equipment, uniforms and additional team fees, the study showed the average total cost for a child's participation in sports is $381.
Nineteen percent of families in the study that earned less than $60,000 per year reported the cost of sports led to at least one of their children not participating.
Among households earning more than $60,000 per year, just five percent of parents said cost had a negative impact on their child's participation, the study showed.
The study talked about how school districts across the country are cutting their athletic budgets in an effort to keep money in the classrooms.
Officials with Dexter Community Schools in Washtenaw County have discussed moving to an entirely self-funded sports system within five years, according to a report last month by Patch.com.
According to the article, the district's athletic budget is set at $585,000 for this year. The article said school leaders want to raise the Dexter's current pay-to-play fees, which are: $100 per sport, per high schooler and $60 per sport, per middle schooler.
At Ann Arbor Public Schools, the fee to participate in any after-school sport is $50 per middle schooler, per year. At high schools, the fee is $150 for the first sport and an additional $75 for each sport after that.
There also in an insurance fee of $30 per year for high school athletes, said district spokeswoman Liz Margolis.
The fee at Whitmore Lake Public Schools is $75 for middle schoolers and $125 for high schoolers per year. Superintendent Kimberly Hart said these figures include a $25 transportation fee.
Saline Area Schools charges $200 per student at the middle school and $250 at the high school, no matter how many sports the students participate in.
Middle-school students at Manchester Community Schools pay $90 for the first season, $70 for the second season and $60 for the third or fourth. At the high school, the fees are $100 for the first season, $80 for the second and $70 for the third or fourth.
Chelsea School District charges $25 for unlimited sports at the middle school this year and $100 for unlimited sports at the high school. Students who qualify for free or reduced-price lunch only pay $10 to participate.
Most of these districts also have a per-family cost cap of $300 to $500. Pay-to-play fees for Lincoln Consolidated Schools were not available.
Milan, Ypsilanti and Willow Run school districts do not charge pay-to-play fees. Ypsilanti officials said they would not consider pay-to-play because the majority of their athletes would qualify for a wavier or scholarship.
Most of Washtenaw County's districts do offer some type of scholarship or the ability to pay in installments to low-income families. However, the U-M study found just 6 percent of the national poll participants had their children's participation fees waved.
"We know participating in school sports offers many benefits to children and teens: higher school achievement, lower dropout rates, improved health, reduced obesity and the development of skills like teamwork and problem-solving," said Sarah Clark, associate director of U-M's child health research unit, in a press release.
"There is not an athletic director, school administrator or coach out there who doesn't want every kid to have a chance to participate. But there are no easy answers, especially because budgets are expected to get tighter and tighter."
Clark hopes this poll data will spur a conversation among school officials about how to make sure children in lower-income families are not left out, she said.
Read the full C.S. Mott Children's Hospital report here or watch the video below, further summarizing the study.
Staff reporter Danielle Arndt covers K-12 education for AnnArbor.com. Follow her on Twitter @DanielleArndt or email her at daniellearndt@annarbor.com.