Posted on
Thu, Aug 22, 2013 : 5:59 a.m.
Number of pedestrian-vehicle crashes up in Ann Arbor since adoption of crosswalk ordinance
By Kyle Feldscher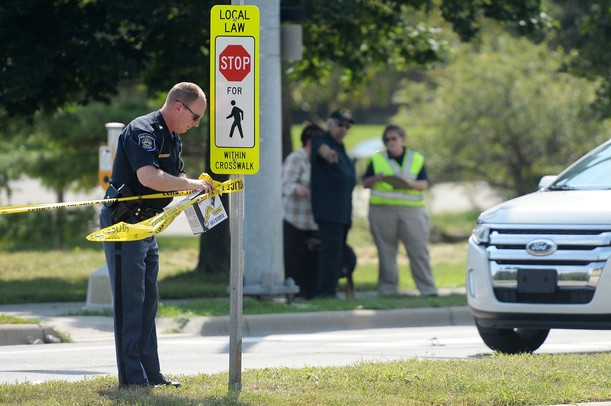 Melanie Maxwell | AnnArbor.com
The number of crashes involving cars and pedestrians in Ann Arbor has increased since the city adopted its pedestrian safety ordinance, an analysis of statistics shows.
But, a city project manager said it's not clear the ordinance itself has had an impact on those numbers, especially since it wasn't enforced during its first year.
The death of a University of Michigan student who was hit by a car while she was crossing Plymouth Road has raised new questions about the safety of pedestrians in the city and prompted a city council member to address the issue Monday night.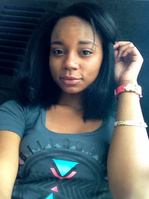 Facebook photo
Sharita Williams
was killed while crossing Plymouth Road earlier this month when she was struck by a green Chevrolet Cavalier in a pedestrian crosswalk. Witnesses have told AnnArbor.com the
Rectangular Rapid Flashing Beacon
crosswalk was activated when Williams was in the street.
The investigation continues.
The city's pedestrian crosswalk ordinance requires vehicles to stop for pedestrians standing at the curb of a crosswalk. This is slightly different than the Michigan Uniform Traffic Code requirement of yielding the right of way to pedestrians who are within a crosswalk.
Even though Ann Arbor is safer than other Michigan cities when it comes to pedestrian crashes, statistics from Michigan Traffic Crash Facts show the number of pedestrian crashes in Ann Arbor have risen in the last few years.
When the ordinance was first passed in 2010 — and when Ann Arbor adopted the UTC— there were 45 pedestrian-car crashes. A year later, that number shot up to 63 crashes before falling slightly to 60 crashes in 2012.
The number of crashes in 2012 and 2011 was markedly higher both years than for any of the years from 2004 until 2009. During those years, as few as 36 vehicle -pedestrian crashes were recorded in 2006. The highest number, 52, was recorded in 2007 and 2008.
Pat Cawley, senior project manager for the city of Ann Arbor, said he's not sure the pedestrian ordinance has affected the number of crashes. He noted the ordinance was originally passed in 2010, started to be enforced in 2011 and was revised in 2012.
That moving target makes it hard for Cawley to accurately state how the ordinance has affected the frequency of pedestrian-car crashes.
"I do see an uptick in the last couple years, but we don't know how many more pedestrians are out there or if there's more vehicular traffic out there," he said. "There's been an increase in crashes overall. As the economy picked up, more people are driving more and crashes have increased."
Plymouth Road is one of the most heavily trafficked areas in the city, with about 24,000 vehicles moving on the corridor every day, according to the Washtenaw Area Transportation Study.
Cawley said the city tracks the usage of the RRFB crosswalk through how many times the buttons that activate the lights are pushed throughout the day. He said the Plymouth Road crosswalks, installed in 2012, get at least 200 button pushes per day.
City of Ann Arbor Transportation Manager Eli Cooper said the crosswalk is intended to "shout" at drivers to make them aware they're coming up to a pedestrian crossing.
However, Cooper said he recognizes that city officials need to make sure the public is educated about crosswalks in Ann Arbor.
"Engineering is only one component. Education is a fundamental element, as is enforcement," he said.
He added, "We're trying to educate motorists and pedestrians how to maneuver safely on our transportation system."
Many changes have come to Plymouth Road's crosswalks during the last 10 years. An island was installed in 2003, and RRFB lights are the most recent change. However, some residents still think more must be done.
Susan Filipiak's mother, Helen, was killed crossing Plymouth Road when she was struck by a driver in 2002. Like Williams, Helen Filipiak was struck by a driver during the middle of the day. She was trying to cross the street during a walk from the Sunrise Assisted Living Facility.
Susan Filipiak said the crosswalk at that time was just lines painted on the pavement. There was no pedestrian ordinance at the time, but the Michigan Uniform Traffic Code language giving the right of way to pedestrians in a crosswalk was in effect.
It's clear that words on a page aren't enough, Filipiak said.
"They (city officials) would not look at more stop lights there, and that's what it really needs," she said. "Not more pedestrian crossing zones, they need stop lights."
Cooper said the RRFBs have been working as advertised in most circumstances and Cawley added that the mean speeds on Plymouth Road have slowed since the RRFBs were introduced. The number of drivers yielding to pedestrians has also increased, Cawley said.
However, Cawley said it's difficult for city traffic engineers to know where pedestrian-car crashes take place the most on the city's roadways.
"Pedestrian and bike crashes are a lot less frequent," he said. "We have a hard time really tracking them and seeing where hot spots are. With vehicle crashes, it's easier because there are more of them and we can trend them a little better."
Still, a vocal contingent of Ann Arbor residents is demanding something be done, including an independent traffic engineering evaluation of the city's crosswalks. Some are pushing for the complete repeal of the crosswalk ordinance.
Filipiak said it's time for city leaders to decide if pedestrian safety is more important than a quick drive into downtown Ann Arbor from the east.
"Ann Arbor is styling itself as a walkable city, accessible to pedestrians," she said. "If something can't be done, it's shameful."
This map shows the location of all fatal pedestrian crashes in the city of Ann Arbor between 2003 and 2013. There have been six such crashes.

View Ann Arbor fatal pedestrian crashes (2003-2012) in a larger map
Editor's note: This story had conflicting information about when the ordinance began to be enforced. That has been fixed.
Kyle Feldscher covers cops and courts for AnnArbor.com. He can be reached at kylefeldscher@annarbor.com or you can follow him on Twitter.