Posted on
Fri, Jun 15, 2012 : 11:28 a.m.
Long-closed Fifth Avenue in downtown Ann Arbor reopens
By Pete Cunningham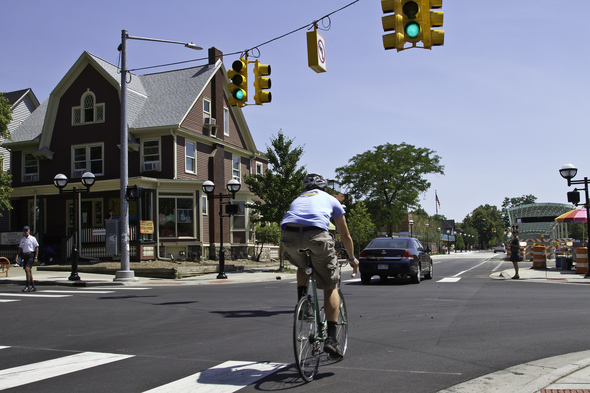 Steve Pepple | AnnArbor.com
Fifth Avenue,
closed for nearly two years
between Liberty and East William streets, opened in downtown Ann Arbor Friday morning to the delight and surprise of pedestrians and motorists.
With a functioning green light at the intersection for the first time since August 2010, many motorists still stopped as though the three-way way stop signs were still in place. Pedestrians seemed to be surprised and excited.
"It's fantastic, that's all I can say," said John Ross as he stood outside on Liberty Street. "It's been a real pain it seems they've torn this street up several times…it's been delay after delay after delay…the street looks fantastic." Ross works in a business at the intersection of Fifth Avenue and Liberty Street.
The street was closed in 2010 for construction of the Downtown Development Authority's $50 million underground parking structure. The structure is also scheduled to open soon.
Hesh Breakstone, an Ann Arbor resident since 1982, said he's been speaking regularly with the construction crew and they told him the street would be opening on Friday earlier in the week. Breakstone made sure to walk past and was pleased with what he saw.
"It's great (not to walk around the construction)," Breakstone said. "Even though this took a very long time, I think they did a very nice job. It fits with Ann Arbor very well."
Downtown Development Authority executive director Susan Pollay was on hand on Friday and pleased as well.
"This is a project that has had a lot of elements to it," Pollay said. "It's very exciting."
"This is a project you can actually see the pieces coming together and it's kind of exciting," Pollay said. "It's actually functioning like every other intersection, which is exciting to see."
Workers at the Jerusalem Garden restaurant near the intersection were unified in their expression of relief that things were getting back to normal. They said it was almost shocking to actually see cars driving past the window.
No one was more relieved than Frank Zynda. Zynda works at Jerusalem Garden and also had to be evacuated from his home on Fifth Avenue because of a sink hole at one point during construction.
"It's about time," Zynda said. "I pulled in today and I saw all these higher ups were getting their picture taken and I thought that was hilarious. I said 'are you kidding me? You're a year and a half behind schedule and you're getting your picture taken?'"
Contact Pete Cunningham at petercunningham@annarbor.com or by phone at 734-623-2561. Follow him on Twitter @petcunningham.