Posted on
Mon, Dec 24, 2012 : 11:01 a.m.
U-M poll: Parents concerned about effects of headphones, other devices on kids' hearing
By Lisa Carolin
Parents may want to think twice before they wrap up earbuds and headphones for their kids this Christmas. A new poll from the University of Michigan C.S. Mott Children's Hospital indicates that the majority of parents of children up to age 17 in a nationwide sample are concerned about their children's hearing and support regular hearing screenings.
"Hearing screening for tweens and teens is uncommon," said Jaynee Handelsman, Ph.D., director of pediatric audiology for C.S. Mott Children's Hospital. "However, as the parents in our poll recognize, children in these age groups may develop hearing loss as time goes on, possibly from extended listening to loud noise, such as through personal, portable listening devices like MP3 players."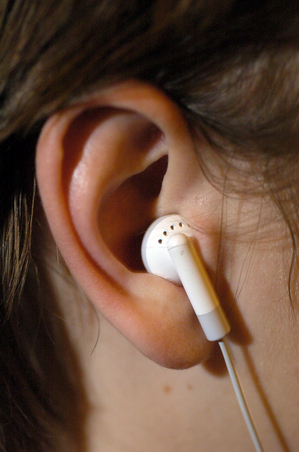 file photo
Handelsman says that exposure to loud music through earbuds, headphones and personal audio devices can be damaging, but the duration of sound from computers, televisions, and video games can be just as damaging.
"The most common causes of hearing loss are listening to loud sounds for prolonged periods, especially close to the ear drums," said Dr. Matthew Davis, director of the C.S. Mott Children's Hospital National Poll on Children's Health, and associate professor of pediatrics and internal medicine in the Child Health Evaluation and Research Unit in the U-M Health System. "If parents put a time limit on the use of things like earbuds, that can help reduce the risk of hearing loss."
Davis says that when kids listen to the TV with the volume up higher than necessary or repeatedly say "what," that can indicate hearing loss.
"Hearing loss can lead to less learning in the classroom and trouble with social relationships," said Davis.
In the poll, 77 percent of parents supported required hearing screening for 2-3-year-olds; 82 percent supported screening for 6-7-year-olds; 71 percent for 10-11-year-olds; and 67 percent for 16-17-year-olds.
"Screening in preschool and elementary school-age children is routine in many states," said Handelsman. "That screening is very effective at identifying children with hearing loss that can impact communication. Screenings can help get children the treatment they need before they experience delays in speech, language, and learning."
Handelsman says that she was surprised by the poll results indicating overwhelming support for required hearing screening for older children and teenagers.
"Hearing loss is an invisible disability, and does not result in hospitalization if untreated-but the costs can be social, emotional, and educational," said Dr. Marci Lesperance, division chief of pediatric otolaryngology at the U-M Health System, who said that this poll was the first time parents were asked about requiring hearing screenings.
The poll found that parents prefer the primary care office for the hearing screenings for preschoolers, and school-based screenings for tweens and teens. Davis says that hearing screenings can be conducted by state public health department employees trained in the use of special equipment, and can be done over the period of a week in place of physical education or elective classes.
For more information on the poll, go to mottnpch.org/reports-surveys/parents-loud-and-clear-test-teens-and-tweens-hearing-loss-too