Posted on
Mon, May 21, 2012 : 5:57 a.m.
Philanthropy is a lifestyle for Ann Arbor-based Comerica executive
By Laura Blodgett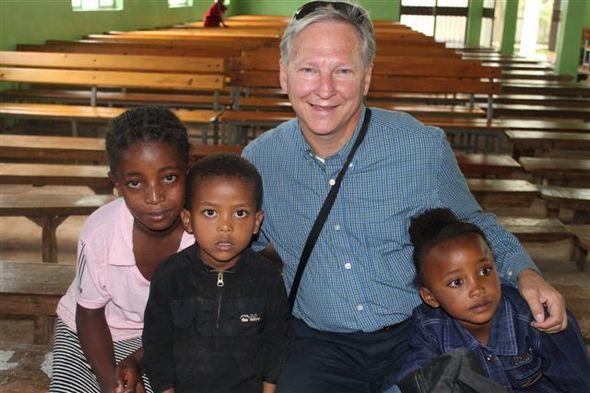 Courtesy photo
For Greg Schrupa, vice president and group manager with Comerica's Charitable Services Group in Ann Arbor, helping others is both his day job and how he spends his free time.
While he spends his days managing the charitable business for Comerica clients to help them build their endowments, he has spent the past four years helping orphans in Africa.
Through his affiliation with Trinity Evangelical Presbyterian Church in Plymouth, Schrupa volunteers with an orphan home in Nairobi, Kenya with 48 boys that were rescued from tragic famine, as well as a home of 20 orphans in Woliso, Ethiopia. Schrupa volunteers with his wife Ellie, who works as director of outreach at Trinity Church, as well as his grown daughters and their husbands.
It began when Schrupa and his wife were asked by friends and fellow church members Janni and Kevin Ruark, founders of the Charis Foundation, to get involved working with World Orphans in Colorado Springs, Colo. World Orphans partners local churches throughout Africa and Asia with churches in America to help rescue orphans in those communities. "At the Fountain of Life church in Nairobi, James and Florence Mbai started bringing in boys off of the slums, they were just living on the streets," said Schrupa, who explains that most of the children are orphans due to AIDS. "Over time, we were able to raise money and secure funds for facilities and now they live in the church compound."
In addition to financial support, the group makes an annual trip to run medical clinics and leadership training for community and church leaders as well as day camps for children. They also host a luncheon in Ethiopia to honor widows with HIV who are not allowed to live in the community, and live and work on a farm to provide for themselves and their children.
The churches in both cities run a home-based orphan care program to work with families to keep children from becoming orphaned. Schrupa and the team help ensure families have food and HIV medicine, and help them build connections with family members so there is someone in line to bring up the child, if necessary.
"For me, that is where the biggest leverage is for our money," said Schrupa. "We go into the slums, bring some food and sit in peoples' homes. It's very moving to see the places where people live and how they subsist."
Schrupa says that the people in Ethiopia are the friendliest people he's met in the world and although they don't have much, they hold high value in education and caring for each other.
He adds that there is a tremendous amount of contrast in that country. "You'll be driving down the road, and see a farmer with an ox and a handmade plow made of two logs roped together, (but) he's out there in the field talking on his cellphone. It's the strangest thing."
That same technology has enabled him to stay in regular communication with his African colleagues to work on any issues.
"With technology we are in communication with them regularly just like any other friends," said Schrupa. "Pastor Teshale and I email each other weekly. I have to interpret his English sometimes but it's pretty good and getting better. He has a Yahoo account. We're on each other's LinkedIn."
The Charis Foundation and Trinity Church just launched a five-year commitment to launch businesses in both locations that can generate enough revenue to sustain the orphan care programs when church and foundation support eventually stops.
In Ethiopia, Schrupa is involved in the early stages of the development of an elementary school. His group has already helped establish a Safari travel company in Kenya run by the children of the couple who started the church in Nairobi.
Schrupa is in regular contact with the safari company through Skype, texts and cellphone to brainstorm and implement new ideas on how expand the business.
"It brings up a whole new perspective when trying to build a business in Nairobi, Kenya," said Schrupa. "It's like I'm working with a friend who might be in Ohio or Grand Rapids but it's half way around the world."
Schrupa, who lives in Canton, admits returning to America after visiting Africa makes him reconsider many decisions he makes.
"It made me more aware of our excesses, and I've tried not to fall into that trap. Why can't I just live with this particular item-- a pair of workout shoes or set of golf clubs -- why do I have to replace it and get something new? I don't, they're fine." Before traveling to Nairobi or Ethiopia, Schrupa always goes through his closet and brings a suitcase of his clothes to leave over there.
This summer he will be making his third trip to both countries. He admits he was a bit apprehensive before his first visit.
"I didn't go searching for this. I didn't know what to expect. But the first time I went, I got really excited. I decided I would take two weeks of my vacation every year now and go."
Schrupa is quick to add that there are many Americans and churches around the country who are working similarly all over the world.
"There's a tremendous need, an unbelievable need," he said. "I just can't imagine growing up as a little kid in the Mathari slums in Nairobi. There, you have a 6-year-old living with their 4-year-old brother out in the street."