Posted on
Sun, Feb 3, 2013 : 2:26 p.m.
Photo of Humane Society cruelty investigator cradling dog after freeway pileup goes viral
By Cindy Heflin
AP photo
The firefighter cradling a shivering dog in a photo widely shared on the Internet after the massive freeway pileup on Interstate 75 Thursday in Detroit is Humane Society of Huron Valley lead cruelty investigator Matt Schaecher.
Schaecher, who works as a Detroit firefighter, was among those who responded to the mile-long series of freeway crashes that occurred Thursday in whiteout conditions. The chain-reaction crashes killed three people, including two children, injured many others and involved dozens of vehicles.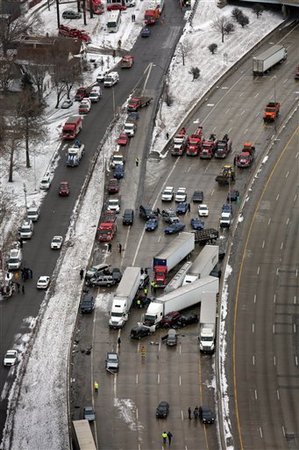 AP photo
Schaecher said he came upon the woman's car at the accident scene on southbound I-75 at the Rouge River bridge. The car was surrounded by semis and badly damaged, he said.
"I asked her if she was OK and she said no she needed help. She said 'I think my dog might be injured.' " She told Schaecher the dog, a Boston terrier named Riley, had been bounced around in the crash.
Schaecher held the dog, a Boston terrier named Riley, and checked him out while other emergency workers got the woman, Heather Ramsey of Ferndale, out of the car and onto a gurney.
"He was shaking almost uncontrollably," Schaecher said. "Probably a combination of being extremely scared and cold." Fortunately the dog was not injured.
Once Ramsey got to an ambulance, Schaecher put Riley in with her.
Ramsey has since been released from the hospital and was featured in a segment on Detroit television station WJBK. "There's really no way I should've survived and I did," she told the station.
The photo, taken by a Detroit News photographer David Coates, was featured in the Huffington Post and has been widely shared on social networking sites.
Schaecher lives in Plymouth Township and commutes east to Detroit two days a week to work as a firefighter and west to the Humane Society in Washtenaw County's Superior Township the rest of the time.
Schaecher said he thinks the image of him cradling the dog has given people something positive to latch onto in the midst of the horror of the crash.
"Obviously any accident scene or any emergency scene that involves children is extremely difficult," he said. "My heart just goes out to the families of the people that have lost loved ones. I can't imagine being in that position."
Watch the WJBK interview with Ramsey below:
Cindy Heflin is associate news director at AnnArbor.com. Contact her at 734-623-2572 or cindyheflin@annarbor.com or follow her on Twitter.