Posted on
Fri, Jul 23, 2010 : 2:37 p.m.
Photographer Harvey Drouillard plans public nude shoot for Ann Arbor Art Fairs
By Brian Vernellis
Matt Lerner's philosophy in life is to wear as few clothes as possible.
So when he and his friend, Derian Kuneman, saw photographer Harvey Drouillard's exhibit on Liberty Street, the pair knew they had to be a part of his next photo shoot. Drouillard, who goes by Harvey professionally, has been shooting photos of models disrobing in public since 1994.
"I just thought it was really cool, and it's a fun concept," Lerner said. "I can't really pick out a specific thing, but the concept of getting an actual shot in public of nude people I thought that was cool.
"I'm looking forward to it, but my friend is getting kind of nervous."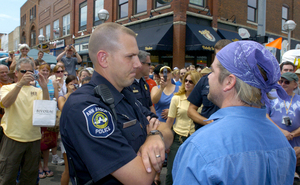 Harvey is planning his largest shoot, using 20 models, for Saturday at an undisclosed location during the last day of the Ann Arbor Art Fairs. Harvey's photo of models at The Rock at the corner of Washtenaw Avenue and Hill Street has become an iconic image of Ann Arbor and is emblazoned on postcards.
Getting the shot requires an ambush style to photography by Harvey and his models.
When Harvey is in the right position, models filter through the crowd, remove their clothes, and in a matter of seconds, Harvey has his shots. The crowd barely has time to register what happened.
"It's amazing to watch the crowd," Harvey said. "At first, it goes silent among the people around the models, and then the quiet spreads as more people realize what's happening."
Harvey has snapped hundreds of photos across the country - Seattle; New Orleans; Albuquerque, N.M.; and Madison, Wisc. Each time, he finds a city landmark for his models to disrobe.
Slipping past police officers has become an art form in elusiveness and diplomacy for Harvey and his models. In Seattle, one of his models walked past an officer standing in a doorway. Before the officer had time to react, Harvey had his shot, and the model was clothed.
The excitement of the moment, the crowd's reaction and evading police officers creates an adrenaline high for Harvey and his models.
"My heart is pumping so fast," Harvey said. "I'm just focused on getting the shots."
And when he gets the shot, he creates some remarkable images.
His book, "The Spirit of Lady Godiva," has images of models in front of Seattle's Pike Place Market, hanging out in New Orleans' French Quarter and trying to hail a cab in Times Square.
"We walked by his booth and thought it was really cool," said Kuneman. "I just liked that it's one whole bunch of people. This will bring people together, and we'll have a fun day together."
Kuneman hopes she'll be ready with the moment approaching.
"I'm really excited, but I don't want to chicken out," she said. "I don't think I will. Like Harvey said, the adrenaline will be high."

Brian Vernellis is a reporter for AnnArbor.com. He can be reached at 734-623-4617 or brianvernellis@annarbor.com.