Posted on
Mon, Nov 7, 2011 : 12:30 p.m.
Pickup truck bursts into flames in owner's driveway
By Cindy Heflin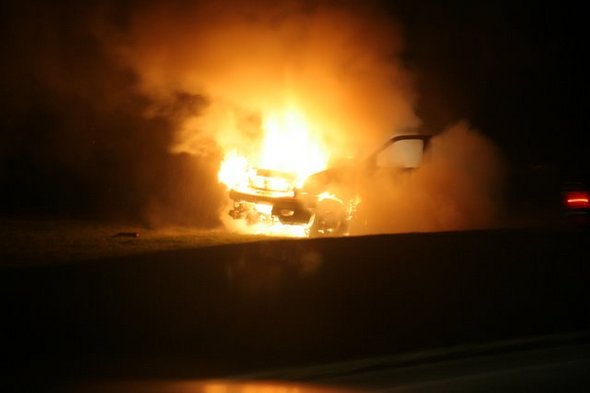 Contributed photo
A pickup truck sitting in a driveway in Scio Township burst into flames Sunday evening, but no one was injured and firefighters kept the fire from spreading to any other property.
The 2000 Ford F-150 truck was sitting in the driveway of the home at 5444 W. Liberty Road when the owner, who was in the garage, heard an explosion and discovered the truck on fire about 6:50 p.m., said Scio Township Fire Chief Carl Ferch.
Scio Township firefighters arrived within four minutes, Ferch said. "It was burning pretty violently when we got there," he said. Firefighters extinguished it in about 15 minutes, but the engine compartment and cab were destroyed, Ferch said, and the vehicle is a total loss.
Ferch said the fire is not suspicious but firefighters could not determine what started it. Ford F-150 pickup trucks from 2000 were part of a recall for a cruise-control deactivation that caused some fires while vehicles were parked with the ignition off. It's not clear if that issue had anything to do with Sunday's fire.