Camp Take Notice residents prepare to leave homeless encampment as deadline looms
Posted on Wed, Jun 20, 2012 : 2:34 p.m.
Melanie Maxwell I AnnArbor.com
With the scheduled shutdown of Camp Take Notice only two days away, some residents of the homeless encampment are in line to move into subsidized housing in the very near future.
Residents of the camp -- located in a state highway median off of Wagner Road west of Ann Arbor -- were initially skeptical when the Michigan State Housing Development Authority on May 29 announced a program that provides them with one year's rent. The program was announced in conjunction with a notice from the Michigan Department of Transportation that the camp would be shut down and residents arrested for trespassing if they are not gone by June 22 — this Friday.
People preparing to move into homes free of charge are now singing a different tune.
"I have no complaints," said David Williams, who has resided at the camp for a year.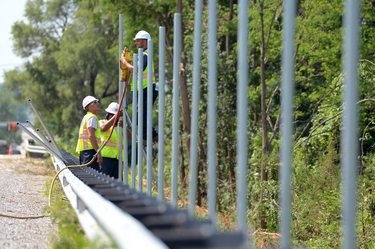 Melanie Maxwell I AnnArbor.com
Williams said he has been working with a caseworker at the
Delonis Center
, downtown Ann Arbor's homeless shelter, to get the necessary paperwork filled out to find an apartment. Williams said he is set up to receive his subsidy and is now looking for a place.
In addition to temporarily increasing its capacity by 50 beds to accommodate camp residents caught between eviction and move-in dates, the Delonis Center is providing caseworkers for the individuals working with the subsidy program.
Williams said if there is a gap between when the camp is shut down and a move-in date, he will stay at a friend's home for a few days.
"It's getting there," said Williams. "I think it'll help me get my life together. Once I get my apartment I think I can save enough money, get a job, maybe go back to school."
James Hill, who said he has been at the camp for 4 ½ months, said he's been pleasantly surprised by the help he's been provided by his caseworker.
"I know the gentleman who has been working on my case for about a year and he's been very helpful," said Hill, who will stay at Delonis in the interim should it be necessary. "I have felonies so it's a little harder for me to find a place to take me, but he's been working hard."
"The agencies in Ann Arbor have gone out of their way to help us and be nice, so kudos to them," said camp resident Jackie Starkey. "I anticipated a lot of paperwork, but it hasn't been really that bad, they kept it to the bare minimum."
Not everyone has been satisfied with the process.
"It's been very difficult… it's ridiculous in three weeks to find something," said James Patterson, who has been at the camp for a year. "They should have at least given a 60-day notice. A lot of people don't have anywhere to go."
Patterson said he has taken advantage of the subsidy program, but doesn't have a place to live set up yet.
Contact Pete Cunningham at petercunningham@annarbor.com or by phone at 734-623-2561. Follow him on Twitter @petcunningham.