Posted on
Sun, Feb 10, 2013 : 5:59 a.m.
Pigging out on paczki: Fat Tuesday marks busiest day of the year for area bakeries
By Janet Miller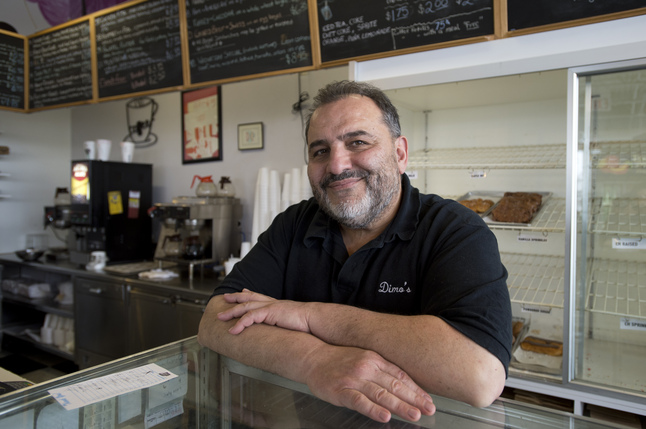 Melanie Maxwell | AnnArbor.com
The paczki-making marathon will start at 8 a.m. Monday at
Dimo's Deli and Donuts
. It won't stop until sometime Tuesday afternoon whenever owner Walid Dimo runs out of steam. By that time, he expects to have made nearly 9,000 of the rich pre-Lenten treats.
"I call them cholesterol tablets," said Dimo, owner of the business on West Stadium Boulevard. "But they are so freaking good."
Customers from Ann Arbor and the surrounding area will cast caloric caution to the wind Tuesday as they sink their teeth into thousands of the heavy pillows of fried dough overstuffed with prune, custard, raspberry and other fillings.
Dimo is one of a handful of local bakers who will pump out thousands of paczki, which can pack more than 400 calories each, while still more food emporiums will import them from out of town. Either way, customers eager for this Fat Tuesday treat will queue up all all day and spend between $1 and $3 on this annual indulgence before the beginning of Lent.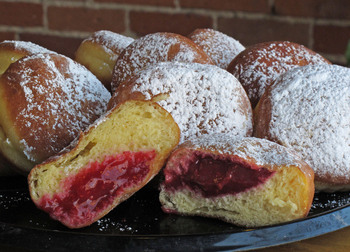 From MLive.com
Paczki have been known in Poland since the Middle Ages,
according to Wikipedia
, and were made to use up ingredients, such as lard and eggs, forbidden during the Catholic season of Lent, which precedes Easter. Although Wikipedia notes that Poles ate the treats on the Thursday before the beginning of Lent, Paczki Day in America falls on Fat Tuesday, the day before Ash Wednesday.
For some local bakeries, it's the busiest day of the year.
Dimo has been making paczki for 40 years when he worked at his parent's doughnut shop. This year, Dimo expects to make close to 9,000 paczki. "I'll sell every one I make," he said.
He'll bring in five extra staff members and will begin making them at 8 a.m. Monday. His shop will be packed, he said. "It is controlled chaos. It will be loud. People will be freaking out, worried that they won't get any. People will walk out with three or four dozen at a time."
Paczki sales in southeast Michigan took off in the 1970s when radio personality J.P. McCarthy mentioned them on his show, Dimo said.
Tuesday is also expected to be the busiest day of the year for the Dexter Bakery, said owner Karen Dudek. The 98-year-old bakery will make between 3,600 and 4,800 paczki in round-the-clock baking that begins early Monday. "A lot of former employees come in to help. They love paczki," she said. The bakery sells nine flavors, from prune (the most traditional and least popular) to raspberry and custard (the most popular).
Copernicus European Delicatessen on South Main Street has ordered 7,000 paczki from a baker in Windsor, said co-owner Elizabeth Magiera. Unlike grocery store paczki that sit on the shelf for a week, they're fresh and arrive still warm, she said. The deli opens at 6 a.m. on Paczki Day to catch the crowd headed to work.
This will be the third year Zingerman's Bakehouse has thrown its paczki hat into the ring, making four flavors, including rose hip and ricotta cheese. Zingerman's limit, without adding more equipment, is 2,400 paczki, said Sara Richardson, marketing manager. Last year they sold out by 10 a.m.
The Bakehouse, which delivers some of its stash to the Roadhouse and Zingerman's Deli, bowed to pressure three years ago. "Every year, we would get calls asking if we made paczki. An employee at the time was passionate about doughnuts. And one of the owners is passionate about doughnuts." Still, the bakery only makes them once a year.
While it's likely no surprise that the bakehouse would be making and selling paczki, some might find it unusual for a tiny sandwich and hot dog shop to be offering the sweet treats.
It's tradition, said Kerry Thompson, whose sons own Wise Guys, an Italian beef sandwich and Chicago hot dog shop on Packard Road. When he and his wife, who is Polish Catholic, owned a restaurant 30 years ago, they sold paczki. They used to order them from a Hamtramck bakery until Paczki Day became such a big business that the bakery began making them two weeks ahead and freezing them, Thompson said.
These days, Wise Guys orders them from a local baker — his name is a secret because he doesn't want to be swamped with more orders — and expects to sell 2,000. Wise Guys will bring on six of seven drivers who will spend the day delivering them, Thompson said.
But they'll only sell them on Tuesday, Thompson said. "It's Paczki Day, not Paczki Week or Paczki Month. You don't eat them Wednesday. You pig out on Tuesday then, at the stroke of midnight, you stop."
Janet Miller is a freelance reporter for AnnArbor.com. Contact the news desk at news@annarbor.com or 734-623-2530.