Posted on
Tue, Apr 3, 2012 : 11:48 a.m.
Pinckney couple collect $250K Mega Millions lottery prize
By Paula Gardner
(This story has been updated to reflect the correct drawing date.)
Michigan's winners of $250,000 prizes in recent Mega Millions lottery drawings are starting to collect, including a couple from Pinckney, according to a report on Mlive.com.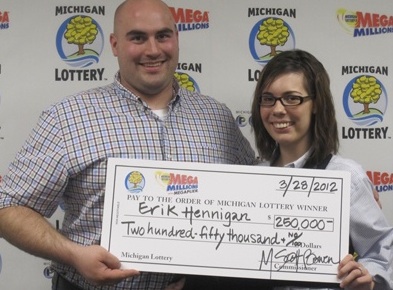 From the Michigan Lottery
Erik Hennigan and his fiancee - who wasn't named by lottery officials - collected their winnings on Monday.
They used a personal formula to choose the winning combination for the March 20 drawing.
From the MLive story:
"If we had played the age we will be when we get married (30) as our Mega number, we would have won the jackpot," (Hennigan) told the lottery.
That jackpot: $241 million, a bit shy of the record-setting $656 million.