Posted on
Sat, May 14, 2011 : 5:59 a.m.
250 Pioneer High School students participated in senior prank that led to 31 suspensions
By Kyle Feldscher
About 250 Pioneer High School students disregarded school warnings and participated in the annual scavenger hunt last week that resulted in vandalism, about $2,800 in damage to two rival Ann Arbor high schools and 31 suspensions.
District spokesperson Liz Margolis said Friday that about 250 kids participated in the scavenger hunt, where teams of students complete items on a list to accumulate the most number of points.
Some of the items on this year's list included defecating on athletic fields at Skyline and Huron High Schools, spray painting the letter P on athletic fields and cutting the tennis nets at Huron, Margolis said.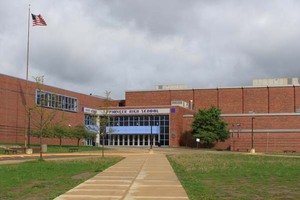 Photo by Wikimedia Commons user Dwight Burdette
Margolis said the activities on the scavenger hunt list are "sometimes harmless, sometimes not so harmless and sometimes go over the top," and most students chose not to participate in activities that damaged school property.
On Thursday, district officials confirmed they'd punished 31 students. The students were suspended for five days, forced to pay $90 each in restitution, must perform 10 hours of community service at Pioneer and cannot attend the senior all-night party. They will, however, still be allowed to walk in the graduation ceremony.
"Any community with rival high schools is going to have some of that action and it's unacceptable, so that's why the school had to act on it," Margolis said.
At least one member of the Pioneer community has issues with how the students were treated.
Michelle Kaucheck, a former Pioneer parent who has family friends among those suspended, said she went with one of the suspended students to Pioneer for moral support as she attempted to ask for her statement back.
Kaucheck said principal Michael White told the student he could not give the original statement back, but would give her a copy. When the student repeated she wanted the original copy, Kaucheck said White became "very, very angry."
"He said, 'I can suspend you right now if you push this or you can wait until tomorrow when you have a chance to say good bye to your friends,'" Kaucheck said, adding that she had been told by multiple students had told her they didn't feel they had any other choice but to confess when they were questioned by White and other school officials.
Margolis said school officials were very firm with the students while they were being questioned about the scavenger hunt.
She said White told them police wanted their names and wanted to prosecute them, but did not threaten them with any legal action.
"I'm sure it wasn't a pleasant situation for the kids," Margolis said. "This was very serious for the kids and I know administrators were very firm."
Kaucheck said she believed the students who participated in the vandalism absolutely should have been punished. However, she simply isn't sure the district got the right students, saying many of the kids who are now being forced to pay restitution for damage didn't cause any of it.
Margolis said each student was interviewed individually and she had not heard of any student attempting to rescind their confession or statements to school administrators.
The suspensions were based on district precedent and Pioneer officials properly followed district policy, Margolis said. She said administrators from Pioneer and district officials at the Balas Administration Building had been meeting with parents throughout the day Thursday and Friday.
Margolis said she hadn't heard of any other senior pranks planned by students for this school year. She said officials at Huron spoke with many student athletes after the decision was made on the Pioneer students to discourage any potential pranks they might be planning.
She said White had been making announcements frequently that the scavenger hunt should not be planned or take place this year.
"Mr. White was making announcements every day that this is unacceptable," Margolis said, adding that he had made such an announcement the day the scavenger hunt occurred.
Kyle Feldscher covers K-12 education for AnnArbor.com. He can be reached at kylefeldscher@annarbor.com or you can follow him on Twitter.