Posted on
Fri, Mar 8, 2013 : 5:58 a.m.
Pioneer High School students named 2013 National Orchestra Festival Grand Champions
By Danielle Arndt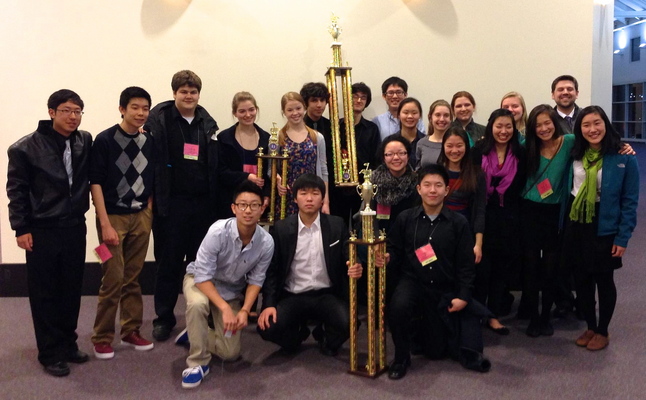 Courtesy of Daniel Rothchild
A new extracurricular orchestra ensemble at Ann Arbor's
Pioneer High School
was named Grand Champion of the
2013 National Orchestra Festival
in Rhode Island.
A group of 20 students from Pioneer's orchestra started a new after-school ensemble this fall at the urging of their director, Jonathan Glawe.
But despite their teacher's assistance in initially forming the group, they are entirely student-run and — more notably — conductorless when they perform.
"Conductorless chamber orchestras like ours are few and far between in the professional world and even more so in the student world," said Pioneer senior violinist Giancarlo Latta. "I've heard a lot of conductorless orchestras perform and they've always really blown me away. The way the music is brought to life by this unified group of musicians that doesn't have a conductor leading them, it's really inspiring and energizing."
The Pioneer Chamber Orchestra was one of 60 student orchestras to apply and audition for the 2013 National Orchestra Festival, which took place Friday through Sunday in Providence, RI, simultaneous with the American String Teachers Association's annual conference.
After an initial screening, the Pioneer musicians were selected as one of 15 orchestras to come to Rhode Island to compete. There were two categories for high school ensembles: string and full orchestra. The Pioneer Chamber Orchestra won first place in the string division and was named Grand Champion of the entire event.
As Grand Champion, the Ann Arbor orchestra was invited to perform in a concert on Saturday for all of the string educators attending the conference.
"We were proud to represent the Ann Arbor Public Schools at this festival," Glawe said. "This was really an experimental group, and it happened to turn out very well. We knew we wanted to compete in the National Orchestra Festival but had no idea we would win the entire thing."
Glawe launched the after-school orchestra in the fall after years of watching small ensembles of his highly dedicated students gather in his room after school to practice and make music together.
"I wanted to give them a consistent outlet with a driving force," Glawe said. And the goal to compete in the National Orchestra Festival was born.
Glawe selected the original 20 students for the chamber orchestra. The orchestra had recently had auditions, so Glawe selected the top 5 to 10 percent of each section, depending on how many players there were of each instrument, he said.
After that, Glawe said the students decided how they wanted to be organized. They selected student leadership, decided they wanted to be conductorless and went about choosing their repertoire.
Latta serves as the group's concertmaster and directs the students most days. Fellow Pioneer senior Daniel Rothchild, who plays the cello, serves as the administrative director. The students also have guest coaches from the local music community who assist them in rehearsals from time to time.
"Giancarlo is a terrific musician and leader, and has inspired the ensemble with his playing," Rothchild said. "... It is through his musical guidance that we've been able to come so far."
Latta has been playing violin since he was six, and Rothchild has played the cello since he was about three. Many of their peers have played equally as long.
Latta has auditioned for a number of prestigious music schools, such as Juilliard, the New England Conservatory of Music in Boston, The Shepherd School of Music at Rice University in Houston and The Cleveland Institute of Music, to attend in the fall.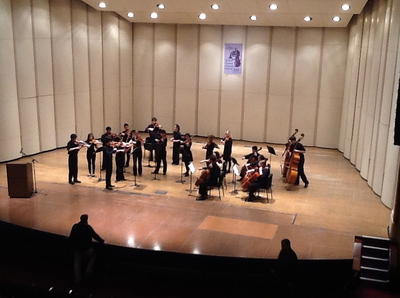 Courtesy of Daniel Rothchild
Latta said he has hopes of either participating in or someday launching his own touring conductorless chamber orchestra.
Rothchild said with a conductorless orchestra, everyone has to be aware of how his or her instrument's part fits into the broad scheme of the piece.
"I'm just so proud of everybody. It's great what we've done," Latta said of his Pioneer High School ensemble. "To be interacting with so many talented people, not just on a musical level — we've become a very close-knit group, and we've been able to create something together — it's been really special."
Rothchild added it's been an amazing growing experience.
"Everyone is encouraging and supportive of everyone else. It's probably astonishing to see teenagers being this mature," he said with a chuckle. "It's an emotional experience to play together with so many people in this way. It's kind of intimate, in that we're all putting ourselves on the line with each other.
"When we play, we're not safe. You have to step out on a limb and maybe look up from your music more than you think you're comfortable with and watch someone else's bow to make sure you're in time. If someone starts rushing, you either have to speed to join them or hope they see and interpret your staring them down because there's no (conductor) up front to keep everyone in check."
Watch the Pioneer Chamber Orchestra perform "Serenade for Strings" by Tchaikovsky earlier this school year:
Danielle Arndt covers K-12 education for AnnArbor.com. Follow her on Twitter @DanielleArndt or email her at daniellearndt@annarbor.com.