Posted on
Mon, Sep 19, 2011 : 5:59 a.m.
Pioneer High students say they were sent home from school over book fines
By Janet Miller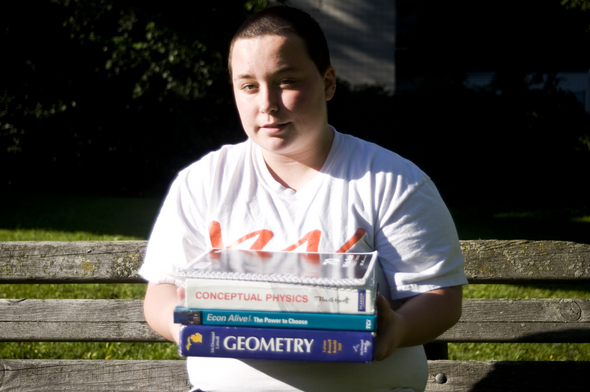 Angela Cesere | AnnArbor.com
When Ellisha Champine set out for the first day at Pioneer High School on Sept. 6, she didn't think her day would last just 20 minutes.
But the high school junior said she didn't make it past registration before she was told to leave school until she paid a $35 book fine, money she said she wouldn't have until her father was paid at the end of the week.
Ellisha said she was referred to Principal Michael White when she tried to register and pick up her books on the first day of school.
When she explained her story to White, Ellisha said, he told her to go home until she paid her fine for the two books she had lost, including "The Grapes of Wrath."
She left, taking the AATA bus to her home at Hikone public housing.
White has said he did not send students home from school for outstanding "obligations," the district's term for unpaid fines on unreturned books, equipment, calculators and more, said Liz Margolis, director of communications for the district.
She said there will be further investigation of what unfolded, and that it is not acceptable and not district policy to send students with unpaid fines home.
"We would need to work with a student and not turn them away," she said. "We're still looking into it."
Ellisha wasn't the only Pioneer student sent home on the first day because of unpaid fines, said Joan F. Doughty, executive director of Community Action Network, a nonprofit that operates a community center at Hikone.
Doughty said when she went to pay Ellisha's fine later that day, Pioneer staff told her about 10 students were sent home on the first day because of outstanding obligations.
"Of course it happened," Doughty said. "The clerk held up a packet with sheets of paper to show me how many kids had been sent home that morning."
Derrick Miller, director of the Bryant Community Center, also part of CAN, said one of the low-income students his center serves was sent home twice from Pioneer on the first day of school - once to have his mother sign registration papers and the second time because of an outstanding $80 book fine.
The family does not have the resources to pay the fine, he added. When the student returned to school the next day, he was not stopped, even though he had not paid the fine, Miller said.
According to Pioneer High School's website, obligations for books and other items "must be cleared before students can complete registration."
But there should be some allowances for low-income students who can't afford to pay the fines, Doughty said
"Even if it wasn't a low-income student, if it was a regular forgetful teenager, I'd be outraged," Doughty said. "I never dreamed that would deny a child their education based on a book fee. This is ludicrous."
Paying a book fine can become impossible for poor families, she said.
"The punishment should not be withholding education. Education is supposed to be the ticket out of being poor. It's so short sighted. It's mean," Doughty said.
Doughty found out that Ellisha had been sent home from school when another CAN employee noticed her post on Facebook. Ellisha said she went home, went to her room and wrote on Facebook as a way to reach out to friends who may be wondering what happened to her.
While Ellisha said she knew she had lost the books - one two years ago and one last year - she said she didn't know she couldn't register. In fact, she said, she was able to register at beginning of 10th grade with an outstanding fine for the other book, "Romeo and Juliet."
It could be handled in other ways, from establishing a payment plan to working the fine off through community service, Doughty said.
It was hard missing the first day, Ellisha said. She'd looked forward to seeing old friends and meeting her new teachers. In some classes, she missed getting a seat assignment. In others, it took a couple days to feel integrated.
Her mother, Sandra Pennington, said she was surprised to see Ellisha come come so early from school.
"I didn't think they could send you home over a fine without notice," she said.
It's ironic, Doughty said, that Ellisha's fine was for "Grapes of Wrath," John Steinbeck's classic novel about the plight of the poor.
"It's all about poverty and how poor people are screwed over and over and just can't get ahead," Doughty said.