Posted on
Tue, Jul 23, 2013 : 3:10 p.m.
Pittsfield seeks tax-capturing authority to fund State Road overhaul, new roundabouts
By Amy Biolchini
Video: A 360 degree view of the intersection of South State Road and Hines Drive on Tuesday, July, 23.
In order to drum up funds needed for a $30 million overhaul to its major State Road commercial corridor, Pittsfield Township is seeking to create a tax-capturing authority.
Supervisor Mandy Grewal has been leading the charge to update South State Road since she took office in 2008, and has been working with the Washtenaw County Road Commission to develop a plan.
"(State Road) has county-wide significance," Grewal said. "It runs through the heart of our business district."
Daniel Brenner I AnnArbor.com
The township Board of Trustees will hold a
special meeting
11 a.m. Wednesday at the township hall to vote on creating a
Corridor Improvement Authority
for State Road - the first of its kind in Washtenaw County.
Similar to a Downtown Development Authority, it will allow the township to collect increases in taxable value due to new development within the authority's bounds.
"The hope is to leverage the only local financing tool left in our tool box to attract federal funds to do a major overhaul to this corridor," Grewal said.
The corridor improvement authority includes commercial properties adjacent to State Road from Pittsfield Township's northern bounds on Interstate 94 to West Michigan Avenue.
Grewal said the township will pursue a tax increment finance plan that will capture 50 percent of the increased property value over a 20-year period.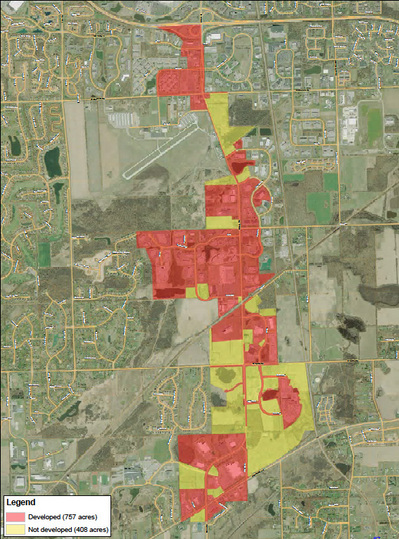 Courtesy of Pittsfield Township
The township has estimated that about $12 million will be generated during that 20-year period, which Grewal said will be used only for the State Road improvement project.
According to a plan drafted by the Road Commission in conjunction with township officials, the overhaul will include expanding State Road from two lanes to a boulevard-style four lane configuration with a narrow median from Airport Drive to Campus Parkway.
The project would also include the installation of two new roundabouts on State Road — one at the intersection of Morgan Road and another at the intersection of Textile Road. The Road Commission is in the process of building a roundabout at the State and Ellsworth intersection at the northern end of the project's proposed bounds.
Bike lanes and pedestrian walkways would be installed as a part of the project. The Road Commission estimates that the overhaul, which would be completed in three phases, would cost a total of about $30 million, said Roy Townsend, managing director.
Expanding State Road from two to four lanes would allow for an express bus to service the businesses in the corridor, which is not an option in the present configuration, Grewal said.
"That corridor is in the same shape as it was in the 1970s," Grewal said. "Transportation needs for the corridor have changed."
Townsend said State Road was last repaved in 2010 using federal stimulus dollars. Updates to State Road have been discussed for about 20 years, Townsend said.
"That became a higher priority for Mandy when she took office (in 2008)," Townsend said. "It makes sense to us. Everyone has recognized that that's one of the main corridors for Pittsfield Township."
Creation of such an authority has been publicly discussed since March 27, when a long-term tax increment financing program was first introduced.
Trustees voted 7-0 April 24 to pursue establishing the creation of such an authority - which began a 60-day public commenting period, which ends Wednesday.
In addition to voting to create the authority Wednesday, trustees will also vote on appointing five people to the authority's board, on which Grewal will sit by default. Representatives are from State Road businesses within the authority's bounds:
Claudia Kretschmer of Gym America; one-year term
Roger Jackson of Tecumseh Products; two-year term
Bill Linfield of Costco; three-year term
Bill Reminder, Pittsfield Township resident; four-year term
David Sarns of NuStep; four-year term
Time is of the essence for Grewal as she moves to create the authority, as the authority's board is responsible for creating a TIF plan that must undergo a public hearing process as well. Should all go according to plan, the TIF plan will be approved before the end of 2013 so it can begin to accrue funds in 2014.
Grewal said she anticipates 2014 will be another year of development by businesses in the corridor, and she wants to get the TIF in place as soon as possible to collect that revenue.
"We don't want to miss the increases in new development as the economy takes off," Grewal said.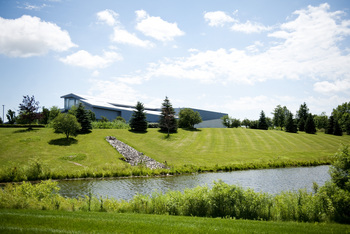 Daniel Brenner I AnnArbor.com
The TIF plan will also be used to leverage federal funds, as it shows a dedicated stream of local funding required for the money to be granted.
Pittsfield Township has applied for a federal TIGER grant for the first phase of the project, which extends from Airport Drive to Morgan Road.
Most federal grants require a 10 percent to 20 percent local match, which would be about $1 million to $2 million for Pittsfield Township if the project cost is $10 million.
Grewal said the township can't allocate $1 million to $2 million from its $11.5 million general fund budget for the State Road project because it would not be fair to the other corridor improvement projects it is involved in — including ReImagine Washtenaw.
"We're very particular as to how and why we're establishing the CIA," Grewal said. "Some DDAs gain the reputation of randomly capturing dollars. … We're going to make a very clear commitment to each of the taxing jurisdictions that that's where the money is going."
Pittsfield Township, as well as other municipalities in Washtenaw County, saw an increase in taxable value in 2013.
In the past five years, Grewal said she's witnessed a retention of existing businesses along State Road, as well as a number of Michigan-based businesses that have chosen to site their headquarters there, including NuStep, Tecumseh Products and Systems in Motion.
"We're looking at these businesses as they grow throughout the next decade," Grewal said. "They're going to want a better transportation infrastructure to accommodate their continued growth."

View Area of planned State Road improvements in a larger map
Amy Biolchini covers Washtenaw County, health and environmental issues for AnnArbor.com. Reach her at (734) 623-2552, amybiolchini@annarbor.com or on Twitter.