Posted on
Thu, Mar 28, 2013 : 4:30 p.m.
Officials want new Pittsfield Township farmers market to promote local-level agriculture
By Kody Klein
The Pittsfield Township Board of Trustees unanimously approved the establishment of a farmers market to open this summer.
Beginning June 6, the market will be open 2 to 7 p.m. every Thursday, which was decided after feedback from a farmers forum held on March 7.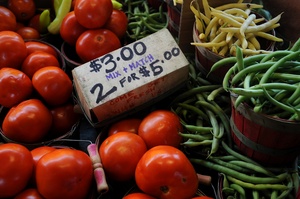 Melanie Maxwell | AnnArbor.com file photo
Township Supervisor Mandy Grewal said the farmers market will help to realize some goals of the township's master plan by promoting local-level agricultural economic activity.
"I think it's a great idea," said Patricia Scribner, the township treasurer. "I've been over to the one in Saline and I always wondered when we would actually have one. This is going to be very exciting for Pittsfield."
The market will have 40 individual 10-by-10-foot spaces that Michigan producers and artisans can rent for the seasonal rate of $50. Most of those spaces will be reserved for food vendors, but eight will be open to vendors of other items.
Grewal said Joan Reed will be helping the township plan the market. Reed has experience with farmers markets, having managed one in Dearborn.
The township is accepting applications for a manager for the market to work 10 to 15 hours per week and would be considered a temporary township employee, earning $18 per hour.
"We would like to square that away in the next couple of weeks," Grewal said.
Grewal said all information about the farmers market, including an application for the manager position, will be available on the township's website by Friday.