Posted on
Wed, Mar 27, 2013 : 5:58 a.m.
Pittsfield Township considering farmers market to open in June
By Kody Klein
Pittsfield Township may establish its own farmers market as early as June if the township Board of Trustees votes to authorize it at its meeting on Wednesday.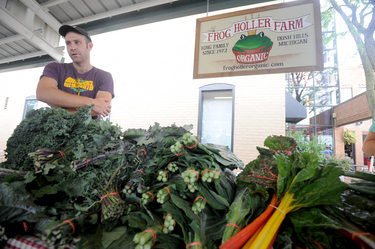 Angela J. Cesere | AnnArbor.com file photo
"We're in favor of it in general," said Trustee
Michael Yi
. "It's always good to support our local farmers and provide fresh fruits and vegetables and dairy to our residents."
Starting June 6, the market would take place every Thursday from 2 to 7 p.m. in the east parking area of the Pittsfield Township Administration Building, 6201 W. Michigan Ave., pending approval from the township attorney, Jim Fink.
Yi said the trustees have been looking for ways to support local agriculture for some time.
"From the very start we took office, we talked about community farming—providing people with plots of lands where they can grow their own food within our township," Yi said. "But this might be a more practical step. It will get a much larger audience to local farms and give people the opportunity to get fresh, local produce."
According to a memorandum from Trish Reilly, the township's deputy supervisor, the market's 40 spaces would be open exclusively to Michigan producers and artisans. Most of those spaces would be reserved for food vendors, but eight would be open to vendors of other items.
Vendors would pay a $50 fee to rent a 10-foot-by-10-foot space for the season.
The township would hire a manager to work 10 to 15 hours per week running the market. The manager would be considered a temporary township employee, earning $18 per hour.
Kody Klein is an intern for AnnArbor.com. Reach him at kklein@mlive.com