Posted on
Mon, Feb 15, 2010 : 9:48 a.m.
Pittsfield Township homeowners block power company's attempts to cut trees today
By Art Aisner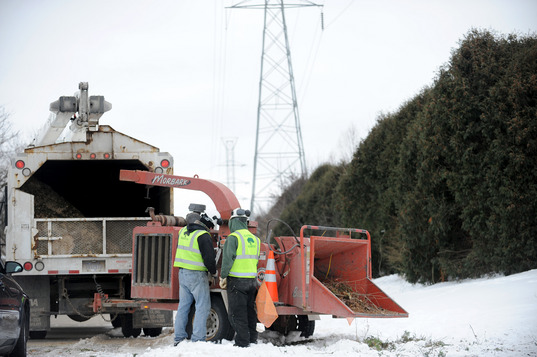 Angela Cesere | AnnArbor.com
Residents of Beech Drive in Pittsfield Township took to the trees this morning as crews from a power company began cutting down arborvitaes along their property, despite a court order.
"They just starting showing up with an army of trucks and took some down before I could get in," Joel Mewton said by cell phone while sitting in one the trees lining his property just before 9 a.m. "They're actually cutting right now."
Mewton and seven other homeowners filed an emergency injunction in court last week to prevent ITC Holdings Corp. from cutting dozens of the trees that have been there for nearly 25 years.
Washtenaw Circuit Judge Melinda Morris signed the restraining order last Thursday and scheduled a hearing on Feb. 24. Cutting was not to occur until at least then, the order states.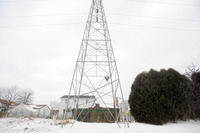 Angela Cesere | AnnArbor.com
ITC officials said last week they would abide by the court ruling.
Spokesman Joe Kirik said this morning that the crews were out and performing their scheduled maintenance duties on the properties not included in the court order.
The Novi-based company, which acquired the right-of-way containing the trees from DTE in 2000, is required to remove trees in the area under and 10 feet outside power lines, he said.
"Our legal department reviewed the order, and we're confident that we have the right to exercise our rights on the easement," he said.
Mewton said he tried to speak to an ITC employee and offered to show a copy of the court order, but they ignored him. He said another resident parked a car in the middle of the street to prevent trucks from continuing down the street, and one truck drove on a lawn to get around it.
He said he and handful of other residents will remain outside until the crews leave. The residents called 911, and Pittsfield Township police were reportedly on their way to the neighborhood.
As for the residents standing in the trees or trying to prevent ITC workers from doing their jobs, Kirik said the company is evaluating the situation.
Art Aisner is a freelance writer for AnnArbor.com. Reach the news desk at news@annarbor.com or 734-623-2530.