Posted on
Sun, Nov 14, 2010 : 5:55 a.m.
Pittsfield Township officials look to make pedestrian safety improvements in Carpenter Road corridor
By Tom Perkins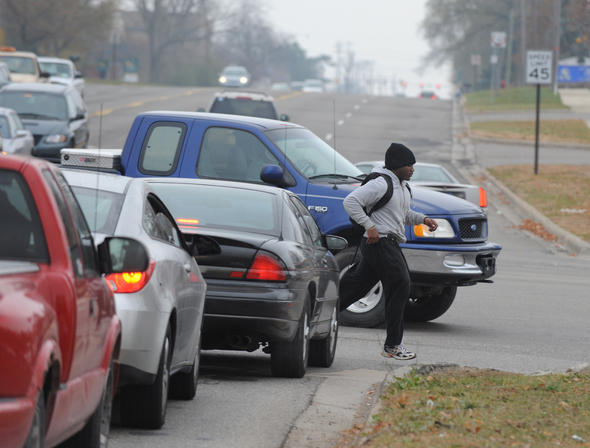 Lon Horwedel | AnnArbor.com
Pittsfield Township officials are stepping up efforts to improve pedestrian safety in an area where an 84-year-old man was struck and killed by a car last week and a man in a wheelchair was hit and injured several weeks ago.
The fatality occurred on Carpenter Road between Packard Road and Washtenaw Avenue where there are no crosswalks in the roughly mile-long stretch. The man in the wheelchair was hit on Carpenter between Packard and Ellsworth roads.
The five-lane stretch of Carpenter Road between Packard and Washtenaw is scheduled for repaving in 2012. That project will now likely include the installation of crosswalks and other safety improvements, though officials say some safety measures could be phased in sooner.
Township Supervisor Mandy Grewal met with officials from the Washtenaw County Road Commission on Wednesday to discuss pedestrian safety improvements in the high-density corridor, and the township's Road Committee is taking up the issue at its Nov. 18 meeting.
Among considerations for improving the area are "mid-block" crosswalks, expanding the sidewalk system, additional signs and more street lamps.
Grewal said the issue was a concern before the man was struck, but the incident brings safety there to the forefront. Ron Torrella, a Road Committee representative from the area, also said he had discussed pedestrian safety concerns in the area via e-mail with other Road Committee members.
As the township's master plan specifies, officials are aiming to install crosswalks mid-block in high use areas where intersections are more than a half-mile apart.
"It has already been on our radar screen and I think what this does is put it on the front burner, and now we need to do something sooner rather than later," Grewal said.
Grewal said no specific timeline or measures have been determined, but those details will be discussed in the coming months. The township has already been expanding its sidewalk system in the area using a $100,000 Community Development Block Grant. Sidewalk expansions include those on Golfside between Packard and Clark roads, Washtenaw between Golfside and Carpenter roads, Carpenter at Packard and the south side of Packard near Golfside Road.
Torrella lives near the intersection of Packard and Carpenter roads and represents the area on the township's Road Committee. Grewal established the committee about a year ago to provide resident input on transportation issues. It has 12 appointed representatives. It meets quarterly and is a separate entity from the Road Commission.
Torrella said he jogs and bikes along the roadways in the area and said many of them are dangerous. He said pedestrians routinely cross the busy street in the corridor to get to businesses in the area.
Guests at the two hotels on the east and west sides of Carpenter Road near Washtenaw Avenue must cross to get to the Red Lobster and Bob Evans restaurants located on the opposite sides of the street, Torrella said. He said people also park across the street from the Nie Funeral home when its parking lot fills.
Additionally, bus stops are located mid-block between Packard and Washtenaw, so people regularly just cross where they are dropped off, Torrella said.
"It's an inherently dangerous situation," he said. "You have two hotels, restaurants, and bus stops on both sides and no way for anybody to get across Carpenter safely without either going north to the Washtenaw intersection, which is bad, or south to Packard, which is just as bad. There's just no place in between."
Roy Townsend, director of engineering for the Washtenaw County Road Commission, said several types of crosswalks could be installed, but the commission would likely recommend one that included striping and a concrete island in the middle.
He said crosswalks with islands are generally safer for five-lane roads because they cut in half the number of lanes a pedestrian needs to cross at one time. He said the location of the crosswalk would depend on side streets and driveways because one can't be placed in a spot where it interferes with traffic turning left. He estimated the total cost of installing at around $10,000.
Debbie Adams, who is the director of the American House assisted-living facility on Carpenter between Ellsworth and Packard roads, said people regularly cross in the middle of the block. It was near American House that a person in a wheelchair was struck and injured recently, though the person was not living at or visiting American House.
"It's the compromised people — the elderly and the handicapped — who can't run fast enough to get to the other side of the road who really have to worry," she said. "The people who can dart across can dodge the cars. You watch so many people go across the street that it was just a matter of time before someone got hurt. I hope (the township) takes this to heart and does something."