Pittsfield Township police release composite, say robber attempted to sexually assault woman
Posted on Mon, Nov 15, 2010 : 11 p.m.
Pittsfield Township police released a composite sketch tonight and additional details of a home invasion and robbery early Sunday, saying one of the intruders attempted to sexually assault one of the residents.
Police say it's unclear why the three robbers targeted a home occupied by a 73-year-old woman and her 50-year-old daughter.
The women were asleep at 1:45 a.m. Sunday when the men kicked in the door to a residence in Arbor Meadows manufactured home community in the 5200 block of West Michigan Avenue, reports said.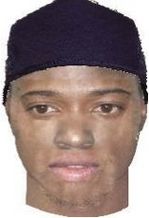 The robbers ordered the women to cover their faces and to not look at them, police said. They implied they had weapons but none were seen.
Deputy Police Chief Gordy Schick said one of the robbers attempted to sexually assault the 50-year-old woman. He declined to release further details.
Schick said robbery appears to be the primary motive for the crime. The women were not injured, although police previously said the 50-year-old was pushed during the incident.
The men stole a TV, electronics, jewelry, cash and other items. They were in the house for about 10 to 15 minutes, police said.
The man pictured in the composite is the one who attempted to sexually assault the woman, Schick said. He was described as black, in his early 20s, 5 feet 5 inches tall, medium build and was wearing a dark-hooded sweatshirt and an olive green coat with a fitted waist, a "mangy" fur collar and a design of three large feathers on the back.
The second robber was described as black, in his early 20s, 5 feet 10 inches tall, medium build, wearing a coat resembling patchwork — large blocks of red over white and blue blocks — on the back and along the sleeves.
The third robber was described as black, in his early 20s, 5 feet 10 inches to 6 feet tall, and was wearing a blue down coat with a fur-lined hood.
Police said they believe the men came in a vehicle, but no vehicle was seen.
Anyone with information is asked to call Pittsfield Township police at 734-944-4911.