Posted on
Tue, Dec 15, 2009 : 6 a.m.
Pittsfield Township police say evidence of self-defense is mounting in shooting
By Amalie Nash
Moments before he was fatally shot, police say Michael Robert Rajchel showed the handgun tucked into his pants.
Adham Mofiid Abu Farha, 34, then fired multiple shots as the two men sat inside Farha's car in the driveway of his Pittsfield Township home the morning of Dec. 2, according to police.
As investigators continue to seek a motive in the fatal shooting, they say evidence of Farha's self-defense assertion continues to mount.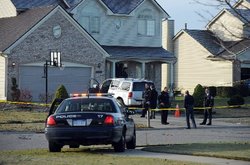 "We've interviewed additional witnesses and got additional information that affirms Farha's self-defense assertion," Pittsfield Public Safety Director Matt Harshberger said.
Police are awaiting autopsy and toxicology results before resubmitting the case to prosecutors to decide whether to file any criminal charges against Farha. He was arrested the morning of the shooting and then was released two days later while police continued to investigate.
Harshberger said Farha and Rajchel had a business relationship involving automobiles, but declined to elaborate. He said the motive of the shooting remains unclear.
Around 8:30 a.m. Dec. 2, Rajchel showed up at Farha's home at 2361 Rockport Court in the Arbor Creek subdivision on the township's northwest side. A witness told AnnArbor.com the two men shook hands.
They got into Farha's SUV, and multiple shots were fired as about 20 elementary students were waiting at a school bus stop across the street.
Farha had a permit to carry a concealed weapon, police said. He had his handgun tucked into his waistband when officers arrived at the scene, police said.
Harshberger said Rajchel showed Farha his gun before the shooting, but declined to elaborate or discuss what Farha told police. He also declined to say what the other witnesses told detectives.
Farha could not be reached by AnnArbor.com.
Prosecutors have previously said they will not decide whether to file criminal charges until additional reports are submitted.