Pittsfield Township police to hold regional neighborhood watch meeting after recent burglaries
Posted on Sat, Aug 18, 2012 : 1:03 p.m.
Recent burglaries and "suspicious" activity in three Pittsfield Township subdivisions have caused the township police to increase police presence in the neighborhoods and organize a regional neighborhood watch meeting.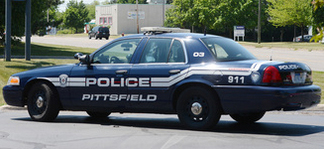 Melanie Maxwell | AnnArbor.com file photo
Residents of Arbor Creek, Boulder Ridge and Hawthorne subdivisions have been invited to participate in the meeting that was put together by the township's department of public safety.
Deputy Police Chief Gordy Schick said the goal of the event is to let the public know the department has noticed the incidents that have occurred in the neighborhoods over the past few weeks.
"We're trying to be proactive in regards to a couple of recent burglaries in the area that we've had," Schick said. "We're trying to increase awareness and prevention."
Most recently, on Aug.3, the township police responded to the 2700 block of Silver Spring Blvd. in the Boulder Ridge Subdivision to a reported home invasion. Police believe a suspect gained entry to the home between 2 and 3 p.m. by prying open and breaking the patio glass door. A MacBook Pro, cash box, loose change and handheld radar was stolen.
On July 24, a home invasion occurred in the 2300 block of Spring Ridge Dr. in the Arbor Creek subdivision after the homeowner reported hearing noises coming from the main floor of the home.
After investigating, the homeowner encountered a male suspect in the house and he fled on foot. The suspect gained entry through an open garage door and an unlocked door shortly before 6 a.m.
Schick said the two recent incidents were cause for concern and enough reason to have the meeting.
"We're going to talk to the neighborhoods that have been impacted by the two break-ins," Schick said. "We've already increased our police presence both with patrol units and bikes. We felt it was a good time to meet with residents."
Schick said although the two incidents have occurred at different times, police believe they may be connected.
"We're starting to notice a pattern," he said. "We just feel that because these two residences are close, we're starting to notice a similarity. Again, we're still examining evidence, though."
No burglaries have occurred in the Hawthorne division, but Schick said those residents were invited because of their close proximity to the other two divisions.
"We don't feel that the subjects that are under investigation are staying in one location," Schick said.
Larry Brown, president of the Arbor Creek neighborhood association, said his subdivision only had minor crimes until recently.
"They usually involved some teenage kid with graffiti and usual childhood pranks,"Brown said. "Within the last three to four months all of a sudden, we started getting reports from our residents of GPS units being stolen from cars and other things."
Brown said some residents have discussed seeing what they thought were "suspicious" vehicles driving slowly through the neighborhood as if they were casing houses.
Brown said what really concerned the neighbors were the recent burglaries. Residents are surprised and upset that this has happened in their neighborhood, Brown said.
"They're surprised that anything like this is happening in our little community today," he said. " There is some anger and there is a little bit of concern."
Brown said residents are pleased to see an increase in patrol in the neighborhoods.
"Hopefully, whatever this is, they'll take notice that we're on guard and will not do anything anymore," Brown said. "It's just unfortunate, but what can you do?"
Schick said residents will be given prevention tips and strategies to prevent home invasions and thefts.
"We feel very strongly that anyone that breaks in in your house or car is an invasion of privacy," he said. "It's really good we have that dialogue."
Schick said it's important for residents to call the police whenever they see a suspicious person or vehicle in the area. Just last week, the township police received a call that could have possibly prevented a crime.
"Someone heard banging on the door and saw someone hiding behind the bushes," Schick said. "The subject left before we got there, but the homeowner did the right thing by calling. Did we prevent something? I'll never know, but these are things we want people to do. Don't hesitate to call 911."
The meeting will be held from 6:30 to 7:30 p.m., Monday at the Ann Arbor District Library located at 2359 Oak Valley Drive.