Posted on
Sun, Oct 21, 2012 : 5:59 a.m.
Ann Arbor man says planes towing advertisements above Michigan Stadium are getting to be too much
By Ryan J. Stanton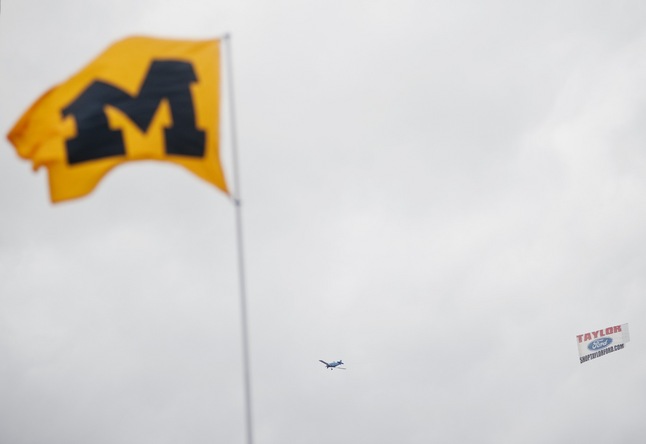 Daniel Brenner | AnnArbor.com
Ann Arbor resident
David Scheltema
lives less than a mile from the Big House and he says it seems there are more banner-towing airplanes flying lower than ever before.
They take to the skies in the mornings before University of Michigan football games and continually run up until an hour before kickoff, carrying advertisements over the crowds.
He considers it a nuisance.
"They're very low and very loud. It gets so bad and drives me so crazy that I just want to leave the house," said Scheltema, who suspects it's getting worse because games are starting later in the afternoon, allowing more time for the planes to fly in the hours before.
Ann Arbor News file photo
"Michigan used to play only 12:30 games," he said. "This year we've had a lot of 3:30 games and planes have started at 10 a.m. — way before the game."
Scheltema said he tried reaching out to city officials, but it took more than two weeks to get a response and so far it seems nothing has been done about the situation.
"The last time I checked that's not how you respond to your constituents," he said.
Matt Kulhanek, the city's airport manager, said all flights around Michigan Stadium must follow Federal Aviation Administration regulations and the local FAA control tower at the Ann Arbor Municipal Airport is in charge of monitoring that.
"They're allowed up to a certain time before game time to fly in the proximity of the stadium and then of course afterward," he said. "And then during the game, you usually need special approval."
There was a scheduled Coast Guard flyover during Saturday's game against Michigan State University, and Kulhanek said even the military needs to get special approval for that.
Kulhanek said sometimes waivers are granted to allow certain planes to fly lower than the normal FAA restrictions. He said the city doesn't have any jurisdiction over air traffic, though.
"Most of these banner towers, they know what the FAA rules and regulations are, and I don't think they're going to be stupid enough to violate them," he said.
Charles Smith, the FAA's air traffic manager at the Ann Arbor airport, declined to comment for this story, referring questions to a Chicago-based public affairs office.
Tony Molinaro, FAA spokesman for the Great Lakes Region, said for major sporting events like a Michigan football game planes can fly up until an hour before and then an hour after the event, and they must fly at least 1,000 feet above the highest obstacle.
The FAA didn't immediately have information available on whether any low-flying plane violations have been reported or how many waivers have been granted.
Scheltema said he can't be sure but it seems the planes are flying lower than allowed as they pass over his neighborhood on their way back to the airport.
"It's right over the house," he said. "It's a fairly heavily trafficked area anyway for the Ann Arbor airport, but I think these planes need to refuel a lot because of the drag of these banners."
Scheltema said he's seen ads for a number of different companies, but the one he recalls most vividly was for the Deja Vu Showgirls strip club in Ypsilanti.
He has no complaints about the normal security helicopters and military jet flyovers that go on during Michigan football games, but he considers the banner-towing planes an unwanted intrusion.
"The ads really — they're just ridiculous," he said. "I wouldn't even mind if they fly around for two hours before game time, but it's much more than that. They're just out of control."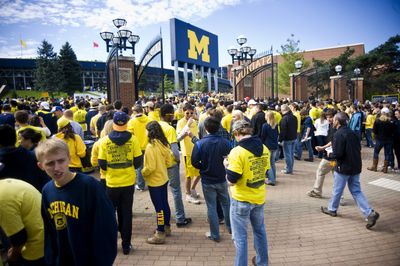 Melanie Maxwell | AnnArbor.com
Kulhanek said he's not sure whether there's more banner traffic. He said there's one primary company that does banner towing that operates out of the Ann Arbor airport and that's
Air America Aerial Ads.
"They drop off and pick up banners here, so they actually have a ground crew that stretches out the banners," he said. "They fly, they switch banners, and they fly."
Jim Miller of Air America Aerial Ads said he's been towing banners around Michigan Stadium for the past 28 years. He said he's clocked more than 18,000 hours of air time.
"Local bar and grills, roofing companies, insurance companies — you name it, it's up there," Miller said, adding he's assisted with happy birthday messages and proposals as well.
He said the going rate is $425 for a banner, which includes eight laps or about 20-25 minutes of air time. Before the Sept. 11 terrorist attacks in 2001, Miller said, there were three bigger companies and some smaller ones that together probably towed 200 banners from 18 different planes.
With tighter restrictions these days, Miller said, there's significantly less advertisement in the sky above the Big House on football Saturdays.
"Unfortunately after 9/11, the small companies fell out," he said. "It's less than what it was pre-9/11, so I wouldn't say there's been any uptick."
He said he's now towing maybe 10 to 30 banners per game using as many as six planes. He pointed out there are six home games this year versus eight last year, so people should see less ads.
"It just draws attention because it's football Saturday," he said.
Miller said he strictly follows the FAA regulations and none of his planes go below 1,000 feet except during takeoff and landing.
Asked what the standards are for accepting advertisements, he said: "As long as it's not foul language, it's freedom of speech up there, and they can advertise whatever they want."
Kulhanek said he empathizes with anyone who is bothered by the banner-towing planes, but considering everything else that comes with football Saturdays — including traffic congestion, noise, tailgating parties and crime — he's not sure the planes are a significant problem.
"It's not like these planes are flying late at night," he said. "And if they are following the regulations, they have a right to be out there just like a guy driving his truck down the street."
Ryan J. Stanton covers government and politics for AnnArbor.com. Reach him at ryanstanton@annarbor.com or 734-623-2529. You also can follow him on Twitter or subscribe to AnnArbor.com's email newsletters.