Posted on
Mon, Apr 16, 2012 : 2:55 p.m.
University of Michigan revisits building contested parking garage on Wall Street
By Kellie Woodhouse
For residents near Wall Street in Ann Arbor, it's happening again.
The University of Michigan is once again proposing to build a multimillion dollar parking structure in their neighborhood.
Three years ago the university halted plans to build a hotly debated parking garage on Wall Street in favor of constructing a structure on Fuller Road to be completed jointly with the city of Ann Arbor. Yet earlier this year the university and city announced they were scrapping plans for the Fuller Road Station structure due, in part, to an inability to build the garage quickly enough for U-M, which is facing a mounting parking shortage.
As a result, the university has revisited its plans to build a structure in the Lower Town neighborhood. Administrators will seek permission from the U-M Board of Regents Thursday to construct a 700-spot, $34 million parking structure on the east side of Wall Street, about one-half mile from University Hospital. The garage will be built atop a 200 spot parking lot and thus will add 500 parking spots on campus.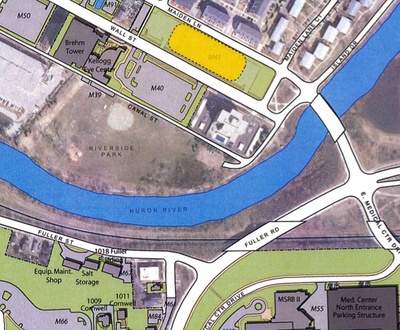 "Does the university have the right to build something there? Sure. But is this the best decision?" asked U-M researcher Eugene Daneshvar, a board member for Riverside Park Place condominiums on Wall Street. "This is going to affect the city. This is going to affect the traffic. This is going to affect the residents that live nearby."
"We are hugely against this," he continued, echoing the same concern he voiced four years ago when the university first proposed a parking structure on Wall Street. That structure was set to cost $48.6 million and included a small transit center and office space, which are not included in the most recent iteration.
According to recent U-M communications, the university's already severe —and still growing— parking shortage has aggravated employees and created an undeniable need for additional parking options near the school's Medical Campus.
"We've called it a hunting license for years," Katie Oppenheim, president of the U-M Professional Nurse Council, told AnnArbor.com recently, speaking of hospital employee parking permits. She added: "Nobody is guaranteed a spot" because of the shortage.
Thus, the slow pace of Fuller Road developments concerned the university. Before the university pulled out of the deal in February, it warned of mounting concerns.
In October Jim Kosteva, U-M's director of community relations, warned Ann Arbor Mayor John Hieftje in an email that the Fuller Road project was moving forward too slowly and that U-M is "feeling the pressure of the 18,000 + folks who work in and around the medical center as they are severely squeezed in their search for parking."
"Revisiting our decision to postpone the structure(s) on Wall Street is becoming a more frequent discussion," Kosteva said at the time.
Parking became even tighter when U-M had to scrap roughly 300 employee parking spaces on the Medical Campus because of the December opening of the new $754 million C. S. Mott Children's and Von Voigtlander Women's Hospital. Those spaces were converted to patient parking. Recently unveiled plans to construct a new nursing school will eliminate another 125 spots.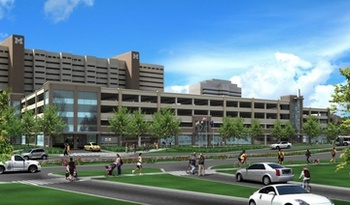 "We've anticipated this need since 2008, and its obviously well upon us," Kosteva said in an interview.
In a recent memo, U-M Chief Financial Officer Timothy Slottow said that due to the shortage, roughly 2,500 employees are parking in remote lots (such as lots near the North Campus Research Complex and Michigan Stadium), and taking a bus to the Medical Center. Another 1,500 employees are taking buses or sharing rides to the Medical Center from their homes, he estimated.
"This shift of employee parking has impacted our employees," Slottow wrote, adding that U-M anticipates "continued growth of patient activity and corresponding additional faculty and staff," which will further crunch parking.
The Board of Regents first approved the construction of a parking structure on Wall Street in 2008 but scrapped those plans in favor of the Fuller Road station in 2009. The university abandoned its original Wall Street parking structure plans partially due to opposition from Wall Street residents who feared increased traffic congestion in their neighborhood.
Daneshvar said residents near Wall Street continue to hold these concerns.
"I'm not going to say that there isn't a parking shortage problem, because I admit there is. But the question is is this the best way forward?" he said.
"You're going to be bringing a ton of car traffic in and people are still going to have to walk or get bused," he said, explaining that the proposed garage requires parkers to "hike" uphill to the medical campus. "Why are you going to bring them 90 percent of the way?"
Kosteva said Wall Street "is the best location" for U-M to "accommodate some of the additional growth" experienced by on the Medical Campus in recent years.
"I would expect that some of the concerns that were expressed by the Wall Street area neighbors will remain," he said. "We will work to listen to those and to see to what degree this design and layout and the like will... address some of those items."
This article has been updated to reflect additional information provided by U-M. An earlier version of the article said the garage would contain 500 spots. It will actually add 500 parking spaces on campus, but will include 700 spots. The garage is being built on an existing parking lot with 200 spots.
Kellie Woodhouse covers higher education for AnnArbor.com. Reach her at kelliewoodhouse@annarbor.com or 734-623-4602 and follow her on twitter.