Posted on
Sun, Sep 23, 2012 : 5:55 a.m.
Plug-in Day celebrating electric vehicles makes its Ann Arbor debut Sunday
By Amy Biolchini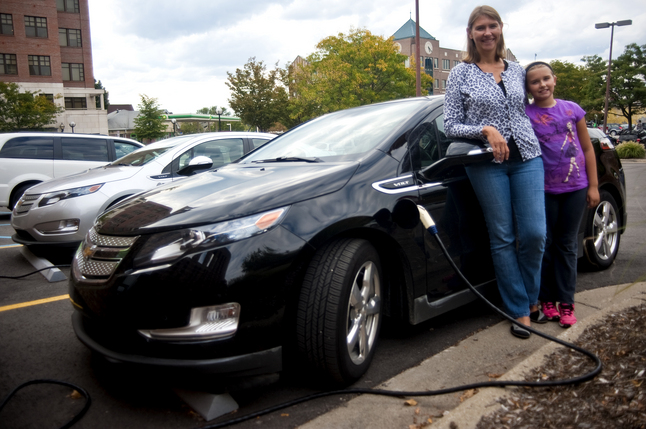 Joseph Tobianski | AnnArbor.com
Ann Arbor resident and University of Michigan professor
Vicki Ringold
wouldn't call herself a car person. But when it comes to her 2012
Chevy Volt
, it's a different story.
"I love to drive it," she said. "It's a very smart car … It's super quiet; I'm constantly honking at squirrels because they don't hear it."
Ringold invested in the electric vehicle lifestyle in March and hasn't looked back since. Sunday, she'll join electric vehicle owners in the Ann Arbor area and across the country in celebrating the power of the plug.
Plug-in Day, an event intended to promote awareness of a growing community of people who own and love their electric vehicles, is coming to Ann Arbor and Saline for the first time from 2 to 5:30 p.m. Sunday.
The event begins at 2 p.m. in Saline, where visitors can check out and test drive electric vehicles parked at South Ann Arbor Street and Michigan Avenue. At 3 p.m., the electric vehicles will parade along Michigan Avenue to State Street to the DTE Parking lot at the corner of South Main Street and East William Street in Ann Arbor.
The event is sponsored locally by the Michigan Electric Auto Association, The Ecology Center, DTE Energy, Saline Main Street and the Main Street Area Association.
"It shows that we're a city that is interested in new technologies and that we're environmentally aware," said Charles Griffith, climate and energy program director for the Ecology Center. "People have many different reasons for why they might drive an electric car: The coolness, reducing emissions … as well as energy security reasons."
After a soft launch of the event last year in several locations across the country, organizers are expanding the effort.
Electric vehicle charging program professionals will be available at the event Sunday. Models of the Chevy Volt, Nissan Leaf, Mitsubishi MiEV, Ford Focus, Tesla Model S, Ford Ranger, Th!nk City and electric scooters will be available for test drives.
"We're giving people a chance to come out and take a look and take a spin around the block and talk to actual EV drivers about their experience with it," Griffith said.
Ringold said there's a communal support that comes with owning an electric vehicle. In the garage where she parks her Volt for work, Ringold said three electric vehicle owners vie for two charging stations.
They often voluntarily leave notes on each others' cars with their numbers and instructions to call or text them when the charging station is free. Ringold said she's started updating others if she's the first to arrive if spots at the stations are open.
"The EV community has been amazingly great in sharing," Ringold said. "We're all in this for various reasons. People tell each other tips; tax deductions … . Everyone who's doing it is very much an advocate for electric cars."
On a single charge, Ringold said she's gone as far as 50 miles and has only exhausted the battery while driving on the interstate. The Volt has a small gasoline tank that kicks in should the battery run out of juice.
"People have misconceptions about whether they're truly cleaner; especially if the electricity is coming from coal-fired power plants," Griffith said. "Because electricity is such an efficient way of running a vehicle, even if the electricity is coming from coal-fired power plants, it's an improvement from using just a gasoline-powered vehicle."
A typical travel distance for Ringold on a day during the school year is a total of 20 miles, as she carpools her children and their friends to school before going to work at the University of Michigan.
"Ann Arbor is great; all the parking lots have chargers, but all you really need is an outlet," Ringold said.
A network of charging stations allows electric vehicle owners to travel easily along the Interstate 94 corridor in Michigan. Grand Rapids is one of the farthest destination points north in the state with charging stations.
Ringold said she was drawn to the Volt after listening to stories from her brother, who test-drove the car extensively.
"It's my BMW," Ringold said.
In August, Ringold said she paid out a total of $20 to charge the Volt. It's taken her $300 per month fuel costs down to $80.
Amy Biolchini covers Washtenaw County, health and environmental issues for AnnArbor.com. Reach her at (734) 623-2552, amybiolchini@annarbor.com or on Twitter.