Posted on
Thu, Nov 10, 2011 : 5:59 a.m.
Ann Arbor posts electronic warning signs as temporary solution to crosswalk problems on Plymouth Road
By Ryan J. Stanton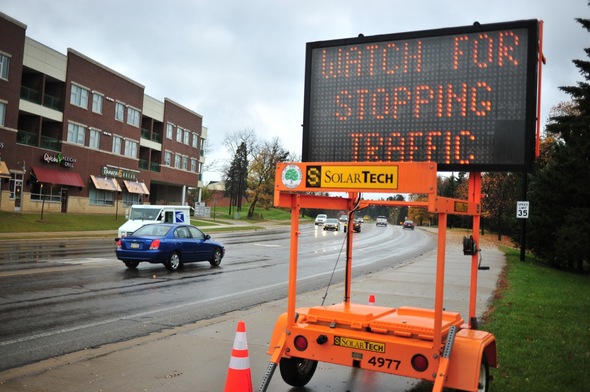 Ryan J. Stanton | AnnArbor.com
In response to
recent rear-end accidents at crosswalks in Ann Arbor
, the city installed two new signs this week along a dangerous stretch of Plymouth Road.
"Watch for stopping traffic," read the electronic signs, which are solar powered and were put in place at the recommendation of Mayor John Hieftje.
One is installed near Murfin Avenue to alert eastbound traffic on Plymouth that other vehicles might be stopped in the middle of the road to let pedestrians cross.
The other sign is installed near Nixon Road to alert westbound traffic. It's between those two points that several rear-end accidents happened recently as a result of motorists not stopping in time after vehicles in front of them hit the brakes for pedestrians at crosswalks.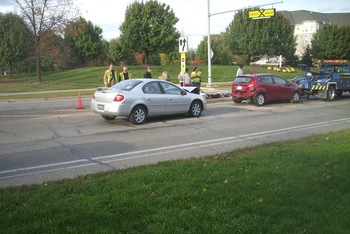 Courtesy photo
"Obviously a driver doesn't have any excuse when he runs into the back of any other vehicle, and this will make it even more clear you need to stop before you run into the back of someone," Hieftje said.
It's always been state law in Michigan that motorists must stop for pedestrians already within crosswalks. But the Ann Arbor City Council last year approved a new local law requiring motorists to also stop for pedestrians "approaching" crosswalks.
Enforcement began in September and Police Chief Barnett Jones acknowledged last week the changes have caused a lot of dysfunction.
Hieftje agreed there are issues to address, but he believes the same problems would have shown up if the city had just decided to start enforcing the state law.
Hieftje maintains the council's action on approving the pedestrian safety ordinance isn't the problem. He said it's drivers not paying attention to the road.
"I mean, deer run into the road, and many people on residential streets will stop for a squirrel," he said. "You have to be awake when you're driving."
Hieftje said Plymouth Road seems to be "the problem area right now" and so city officials are taking a close look at the issues there.
"I think people are probably aware that we've asked for an accelerated process to get more HAWK signals," Hieftje said, referring to pedestrian-activated crossing signals that have proven to be effective at other crosswalks in Ann Arbor, including at Third and Huron.
But he said those cost about $100,000. A cheaper solution, Hieftje said, might be flashing LED lights called Rectangular Rapid Flashing Beacons that pedestrians can activate.
"Those are much cheaper and we're probably talking in the $10,000 to $15,000 range," Hieftje said. "We might be having a conversation about those on Thursday night, and I'm sure we'll be discussing this ordinance and how we can clarify the 'approaching' part of it."
The City Council recently directed the city's staff to examine new engineering solutions for crosswalks throughout the city, including along Plymouth. Staff is expected to report back in December about possible solutions, including new crossing signals.
Ryan J. Stanton covers government and politics for AnnArbor.com. Reach him at ryanstanton@annarbor.com or 734-623-2529. You also can follow him on Twitter or subscribe to AnnArbor.com's e-mail newsletters.