Posted on
Fri, Sep 7, 2012 : 5:58 a.m.
Police ask fans to 'bring a dose of patience' to deal with football traffic on Saturday
By Kyle Feldscher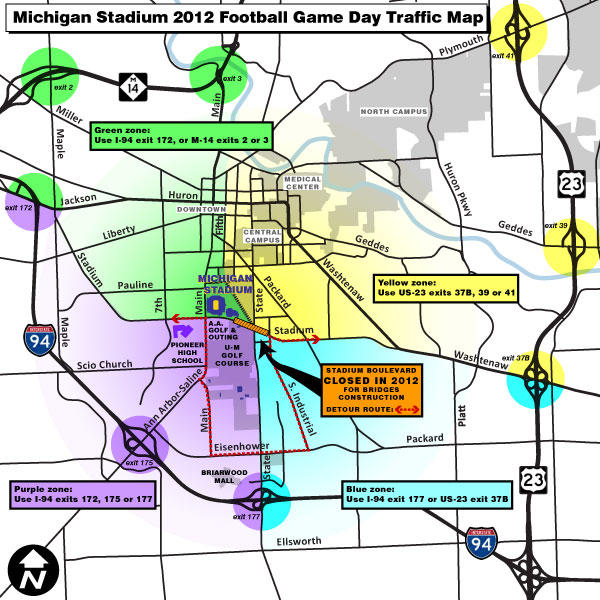 Courtesy of University of Michigan
University of Michigan football fans coming into Ann Arbor on game days avoided having to deal with the East Stadium Boulevard bridge construction last year, but won't be so lucky in 2012.
Police are warning fans coming into the city who plan to park near Michigan Stadium to arrive early before the game and expect delays due to the closure of East Stadium Boulevard from South Industrial Highway to Kipke Drive. Ann Arbor police Lt. Renee Bush said pregame traffic will be directed normally on Main Street and State Street, but the closed road should be taken into account.
"Bring a dose of patience, a sense of humor and some excitement for the game," Bush said.
Alternative routes are advised, Bush said, but a delay is expected both before and after Saturday's 3:30 p.m. game against Air Force. Construction on the project began following the Wolverines' home finale against Ohio State University in November 2011.
Homayoon Pirooz, the city of Ann Arbor's Project Management manager, said football season definitely has played its part in the timing of the project. The start of the project purposely was planned to start after the end of last year's season and he said one of the fears about the project was it would interrupt two football seasons.
"A lot of planning went into this and we were even looking at the possibility of missing two football seasons," he said. "We're only missing this season … and hoping it'll be ready for next year."
Traffic jams exacerbated by the closure of East Stadium Boulevard are expected to frequently occur during the 2012 season. If all goes to plan, East Stadium Boulevard is expected to open to traffic on Nov. 14, three days before the Wolverines' final home game against the Iowa Hawkeyes.
The normal southbound, one-way system on Main Street and Ann Arbor-Saline Road from Stadium Boulevard to Interstate 94 will be in effect after the game. South State Street will have two southbound lanes going toward I-94 from Stimson Street, Bush said.
University of Michigan officials released suggestions for fans coming into Ann Arbor on which freeway exit would best suit their route with the construction.
Fans coming from the northwest are encouraged to use exit 172 on I-94 or exit 2 or 3 on M-14. Fans coming from the northeast are encouraged to use US-23 exits 37B, 39 or 41. Fans coming from the southeast are encouraged to use exit 177 on I-94 or exit 37B on US-23. Fans coming from the southwest are encouraged to use exits 172, 175 or 177 on I-94.
After the game, fans are encouraged to find a route home through the north and west freeway interchanges as the south and east interchanges see much more heavy traffic.
University of Michigan Department of Public Safety spokeswoman Diane Brown said fans should do their best to get to the game early, if possible, to avoid long lines at the turnstiles.
"The gates open two hours before kickoff and we believe fans should go in that first hour," she said. "There's lots to do inside the stadium."
Kyle Feldscher covers cops and courts for AnnArbor.com. He can be reached at kylefeldscher@annarbor.com or you can follow him on Twitter.