Posted on
Thu, May 3, 2012 : 7:47 a.m.
Ann Arbor police ask public for tips in search for missing ex-U-M student
By Paula Gardner
Ann Arbor police continue to ask the community for any information as they search for Brice Moss, the former University of Michigan student reported missing on Saturday.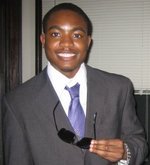 Courtesy of Facebook
"There have been several tips received," said Lt. Renee Bush.
So far, she said, detectives said none of them have resulted in a credible lead that gets officials closer to finding Moss and reuniting him with his family.
Among the pending tips is a possible sighting near North Campus on May 1, according to a report in the Michigan Daily.
Moss was last seen at 2:40 a.m. Saturday, the day his parents arrived for U-M's graduation. They didn't see him that day, and they learned that he'd no longer been attending the university.
Anyone with information on Moss' whereabouts is encouraged to call the Ann Arbor police anonymous tip line at 734-794-6939 or 911 if in the city of Ann Arbor.