Posted on
Fri, Jul 5, 2013 : 1 p.m.
Police, fire agencies report no major incidents from Fourth of July celebrations
By John Counts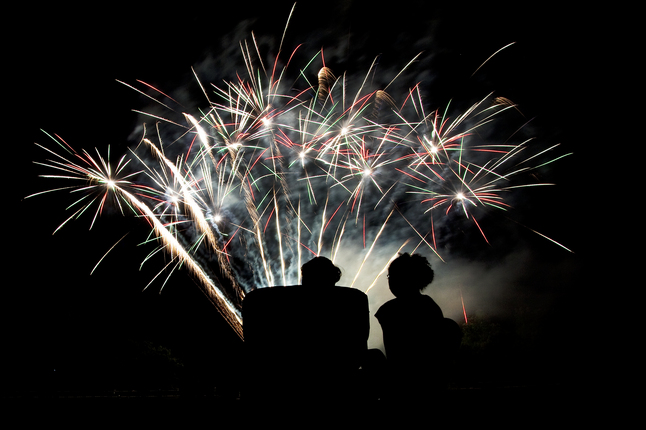 Jeffrey Smith | AnnArbor.com file photo
Police and fire agencies throughout Washtenaw County said Friday there were no major incidents resulting from
Fourth of July
celebrations Thursday.
Joyce Williams of Huron Valley Ambulance said only one minor injury was reported in the county. That was a child who suffered minor burns from a sparkler at 7:06 p.m. She was transported to a hospital by her parents, so authorities don't have record of where it occurred, Williams said.
Despite an ordinance that was passed in Ann Arbor to fireworks between midnight and 8 a.m. on July 3, July 4 and July 5, there were no more complaints than usual Sgt. Mike Scherba said.
"You have your residents who enjoy the holiday and you have those who don't," Scherba said.
There were, however, three firework complaints in parking lots on the University of Michigan campus, according to a U-M police crime summary. Police were called to the 2700 block of Hubbard at 10:36 p.m., to the 600 block of Thompson Street at 11:07 p.m. and to the 500 block of Liberty Street at 11:12 p.m. In all three incidents, people who were lighting off fireworks in the parking lots were told to move along, according to the summary.
Ypsilanti Township passed an ordinance similar to the one passed in Ann Arbor after receiving complaints during last year's celebrations, which was the first Fourth of July during which aerial fireworks were legal in Michigan.
The Washtenaw County Sheriff's Office didn't report any major incidents in Ypsilanti Township or anywhere else in its coverage area, according to Sgt. Geoff Fox.
"The calls for service were comparable to years past," he said, adding that data about citations was not immediately available.
There were also no major incidents reported in Ypsilanti, said Sgt. Thomas Eberts.
The Ypsilanti Fire Department said it dealt with a dumpster fire that was unrelated to holiday activities, but that it was an otherwise uneventful evening.
Fire departments in Pittsfield Township, Scio Township, Ypsilanti Township, Dexter and Chelsea also reported no major firework-related incidents.
"It sounds like it was relatively quiet in the county," said Pittsfield Township Fire Chief Sean Gleason.
John Counts covers cops and courts for AnnArbor.com. He can be reached at johncounts@annarbor.com or you can follow him on Twitter.