Posted on
Wed, Jul 3, 2013 : 11:35 a.m.
Police identify 8-year-old Ann Arbor boy who died in canoe accident
By John Counts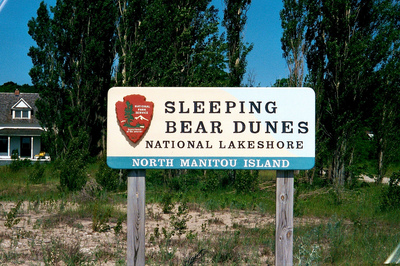 Photo courtesy of Flickr user Jacklyn Drum
Police Wednesday identified the 8-year-old Ann Arbor boy who died in a Lake Michigan canoe accident Monday.
Stephen William Osler Easter and his father, William Osler, 48, were in a canoe that was "capsized by a rogue wave" at around 8:15 p.m. Monday about 1 mile from shore in Sleeping Bear Bay, according to the Leelanau County Sheriff's Office.
The two were thrown into the 55 degree water by the wave and remained with the overturned canoe until located by the United States Coast Guard at approximately 10:30 p.m.
Officials performed CPR on the boy as he was airlifted to the Traverse City Coast Guard station and then to Munson Medical Center.
He was pronounced dead at 1 a.m., according to the sheriff's office.
Osler and his son left from D.H. Day Campground in Sleeping Bear Dunes about 8 a.m.Tuesday in a rented canoe and arrived at North Manitou Island around 1 p.m.
"They were staying at the campground and they had what is called a float plan," said Leelanau County Sheriff Mike Borkovich.
The float plan was known to officials at the campground, the sheriff added. The Traverse City Record-Eagle reported Wednesday morning that park officials warned Osler about making the trip. A message was left Wednesday with Sleeping Bear Dunes Chief Ranger Phil Akers by AnnArbor.com.
Once on North Manitou Island, Osler and his son rested for approximately one and a half to two hours before heading back to the mainland. They were about a mile from shore when a wave tipped over the canoe, sending father and son into the cold water.
After the canoe was capsized, Osler used a cell phone to call a National Park Service ranger.
"He called the park campground instead of dialing 911," the sheriff said.
A release from the sheriff's office detailed how the call for help was routed: The ranger immediately called an on-duty ranger and park service dispatch, which in turn called Leelanau dispatch, and Leelanau County marine deputies and patrol deputies were sent to respond. The U.S. Coast Guard searched by water and air.
Trying to locate the green canoe in the dark wasn't easy for rescuers, Borkovich said.
"It was a tough deal," he added about the search.
Both victims were wearing life preservers when located.
John Counts covers cops and courts for AnnArbor.com. He can be reached at johncounts@annarbor.com or you can follow him on Twitter.