Posted on
Fri, Jan 6, 2012 : 10:39 a.m.
Police investigate alleged domestic assault at home of Ann Arbor firefighter killed on I-696
By Cindy Heflin
Bloomfield Township police are investigating an alleged domestic assault at the home of Ann Arbor firefighter Daniel Armitage, who was killed when struck by several cars on Interstate 696 Thursday, the Detroit Free Press reported this morning.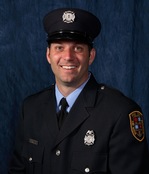 Michigan State Police Trooper Paul Shunia told the Free Press Armitage's wife is in Beaumont Hospital in Royal Oak. Police received a report that she was assaulted by Armitage on Jan. 1 in their home in Bloomfield Township, Shunia said.
Armitage, 41, an Ann Arbor firefighter since 1995, died after at least three cars struck him about 6:30 Thursday morning along the freeway in Farmington Hills while he was apparently changing a tire, Michigan State Police said. Armitage, who lived in West Bloomfield Township, appeared to have been changing a tire on the north shoulder of westbound I-696 but at some point ended up on the ground in the right lane of the freeway, where the vehicles hit him, police said.
Another vehicle crashed into the median while trying to avoid striking Armitage, and its occupants suffered minor injuries, police said.
The westbound lanes of the freeway were closed for several hours after the crash.
Michigan State Police Lt. Phil Menna said police have made no determination about why Armitage ended up in the traffic lane and are looking at the crash from every angle. He said police have spoken to all the drivers involved in the crash and received many calls from motorists who drove through the area at the time of the crash. Police still want to speak to anyone else with information, Menna said.
Ruben Ortiz-Reyes, deputy forensic pathologist with the Oakland County Medical Examiner's office, said the office had no information to release about an autopsy today. He said the office had not established a positive identification of the victim.
Anyone with information about the crash is asked to call police at 248-584-5740.