Posted on
Sat, Nov 3, 2012 : 5:50 p.m.
Police release details of Saturday's fatal crash on I-94
By Paula Gardner
The fatal collision on I-94 on Saturday morning in Ann Arbor occurred during a traffic backup that followed a freeway closure to allow repairs to a highway sign, officials said Saturday afternoon.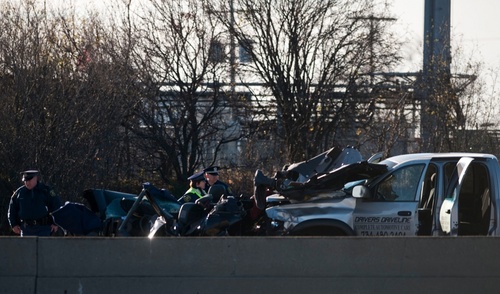 Daniel Brenner | AnnArbor.com
The crash killed Sean Desmarais, 43, of Ann Arbor. Two other drivers - both 18 year old residents of Minnesota - were hospitalized following the 8 a.m. collision in the highway's eastbound lanes just west of South State.
Traffic on eastbound I-94 had been stopped while Michigan Department of Transportation officials replaced a sign near US-23, said Mark Sweeney of MDOT.
"Early this morning the plan was to close the freeway for 15-20 minutes ... but we had some difficulty (with the sign)," said Sweeney, manager of the MDOT service area that includes Washtenaw County.
The freeway closure - which started at about 7 a.m. - ended up lasting just less than an hour, Sweeney said.
"We were ready to open back up ... and the accident happened at that time," he said.
Police said the backup extended to the area of the crash. Among the vehicles stopped there were a semi truck driven by Thomas Smith, 59, of Leslie, Mich. and a Hyundai Santa Fe driving by Nicholas Vandoornevelt, 18.
Officers said the 2003 Dodge Ram truck driven by Desmarais "approached the scene of the stopped traffic," and hit the Santa Fe. That vehicle then was pushed into Smith's semi truck.
Desmarais' airbag did not deploy, police said, and he was not wearing a seatbelt.
Vandoornevelt and his passenger, Spencer Yon, are being treated at University of Michigan hospitals. Smith was treated for minor injuries at the scene.
Desmarais was reportedly on his way to work at Drivers Driveline Auto Repair Service Center in Ypsilanti Township, where he was manager. The business closed Saturday as employees received news of his death. Desmarais is survived by a wife and two children, they said.
MSP continues to investigate the crash, according to a new release.
MDOT is waiting for the results of the investigation, Sweeney said, as they continue to sort out details.
The work on the sign involved erecting a "truss sign" that extended across I-94 near US-23, Sweeney said. The effort was part of other upgrades and replacements of signs in the area that started over the summer.
During a typical 15-20 minute freeway closure, the state police will slow traffic by using two patrol cars driving in tandem and gradually slowing down, Sweeney said.
More extensive signage would only be used for longer closures, Sweeney said, but he said he believes message boards were up on Saturday.
"We don't do a lot of advance signing (for shorter closures)," he said. "This went longer than anticipated."
As the freeway closure extended on Saturday morning, police then closed I-94 to traffic further west at Ann Arbor-Saline Road.
That allowed state police to "funnel" drivers off of the highway, MDOT officials said.
"We had to get people out of that vicinity," Sweeney said. "By the time it had opened, people were leaving the freeway at Ann Arbor-Saline Road."
The sign work, Sweeney said, is not unusual - even though it wasn't anticipated. Officials made the safety judgement based on what they needed to accomplish with the sign, he said.
"It's just not safe to erect a truss (sign) with traffic underneath it," Sweeney said. "... The closure was not intended to go as long as it did."