Posted on
Sat, Aug 3, 2013 : 8:10 a.m.
Crash in restaurant parking lot kills 30-year-old Shelby Township man
By John Counts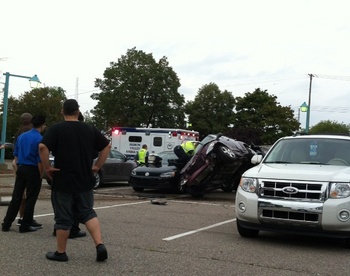 Colleen Ramsdell | For AnnArbor.com
Police were still not releasing the name Saturday morning of the person who died in a fatal crash Friday night but did confirm the driver was a 30-year-old Shelby Township man.
Pittsfield Township police issued a release about the accident Saturday that provided a few more details about the accident in which the man's car rolled onto vehicles parked at the Palm Palace restaurant at 2370 Carpenter Road.
Police and fire were first called to a traffic crash in the area of Washtenaw Avenue near Carpenter Road at 7:45 p.m.
Police said the man's car was traveling east on Washtenaw just east of U.S. 23 when it drifted off the roadway to the south. The driver lost control, and the car traveled southeast across the northbound U.S. 23 exit ramp to Washtenaw Avenue.
The vehicle then went over an embankment and eventually came to rest in the parking lot of the restaurant after striking several unoccupied parked cars, police said.
The driver and lone occupant was pronounced dead at the scene by responding medical personnel.
The reason the man lost control of the vehicle is still under investigation by the Pittsfield Township Accident Investigation Team.
Anyone who may have witnessed the crash is asked to call Pittsfield Township Police at 734-822- 4911.
The crash is the latest in a string of fatal crashes across Washtenaw County and it was the second in a week in Pittsfield Township.
John Counts covers cops and courts for AnnArbor.com. He can be reached at johncounts@annarbor.com or you can follow him on Twitter.