Posted on
Tue, Apr 24, 2012 : 6 p.m.
Police: Shots fired at secluded area used for target practice source of Dexter schools lockdowns
By Danielle Arndt
Previous coverage: Dexter schools put on lockdown after reports of shots fired
Deputies with the Washtenaw County Sheriff's Office have determined the source of the reported gunshots and firecrackers disrupting Dexter Community Schools.
After suspicious noises that were thought to be gunshots were reported Tuesday afternoon, the Dexter school district was placed on lockdown for the second time since last week Wednesday.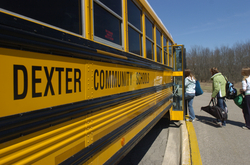 While searching in the vicinity of
Walkabout Creek Apartments
where the noises were heard, deputies located shell casings in a "secluded area" near the complex, said spokesman
Derrick Jackson
in a statement.
Jackson said an individual was identified and questioned. Deputies were able to confirm that the area was being used for target practice and for shooting off fireworks.
Due to the location of the target practice, students from the schools were not in any immediate danger, Jackson wrote.
He said while no evidence was discovered following last week's incident, today's investigation has led the Sheriff's Office to believe the two incidents were related.
It is against the law to discharge a firearm within the village of Dexter's boundaries, Jackson said, adding deputies will continue to patrol the area to ensure no other illegal target practice is taking place.
Staff reporter Danielle Arndt covers K-12 education for AnnArbor.com. Follow her on Twitter @DanielleArndt or email her at daniellearndt@annarbor.com.