Posted on
Tue, Jul 30, 2013 : 5:59 a.m.
Police warn drivers to take precautions after rash of fatal accidents near Ann Arbor
By John Counts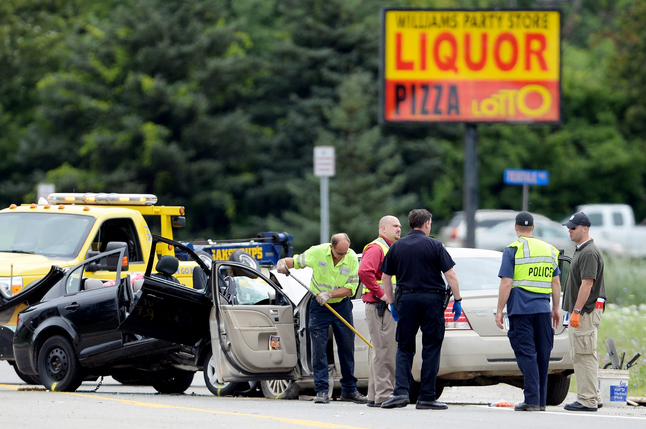 Melanie Maxwell | AnnArbor.com
Be careful on the roads.
That's the message police are sending to motorists after four fatal crashes have left five dead in Washtenaw County since the beginning of July, including one crash in Pittsfield Township Monday and one in Ann Arbor on Sunday.
"Yes, we have noticed there's (been) a rash of fatal accidents in Washtenaw County," said Michigan State Police Sgt. Mark Thompson.
Law enforcement authorities said distracted driving has played some part in some of the fatal crashes since the year began. It's unclear whether it was a factor in the most recent crashes.
However, all drivers need to recognize the potential danger, police said.
"This is a call to drivers as an example of what happens when you don't pay attention to your driving," Thompson said.
Derrick Jackson of the Washtenaw County Sheriff's Office said deputies have noticed the common theme of distracted driving in many of the crashes.
Jackson said the sheriff's office has responded to roughly as many fatal or serious injury crashes in seven months this year as they did all of last year. He said in 2012, there were 23 calls to these types of crashes. There have been 22 such calls already in 2013, according to Jackson.
In 2013, there have been 15 fatal crashes with 16 deaths, according to previous AnnArbor.com coverage. There are no official statistics released from the state police for the year yet.
This could put the number of fatal accidents on par with previous years. According to MichiganTrafficCrashFacts.org in 2012 there were 22 fatal crashes with 23 deaths; in 2011 there were 33 fatal crashes with 35 deaths; in 2010 there were 20 fatal crashes with 20 deaths and in 2009 there were 25 fatal crashes with 26 deaths.
In the last five years, 913 people were either killed or suffered incapacitating injuries in Washtenaw County, making it the sixth in the state, according to the website.
Thompson urges drivers to "put down their phones and pay attention." State police also warn against tailgating, drowsy driving and aggressive driving.
On Monday, two men -- Benjamin Arthur Alden, 28, and Neil Nelson Stierle, 81 -- died after a head-on collision in Pittsfield Township. The crash occurred around 8:29 a.m. on Michigan Avenue. It remains under investigation, with no cause released.
A day before, 43 year-old Bonnie Brush, of Grand Rapids, was killed after rolling her vehicle several times while traveling on U.S.-23 in Ann Arbor.

View Fatal crashes in July 2013 in a larger map
John Counts covers cops and courts for AnnArbor.com. He can be reached at johncounts@annarbor.com or you can follow him on Twitter.