Posted on
Wed, Jun 29, 2011 : 11:03 p.m.
Popular Pioneer teacher Jeff Kass, supporters ask Ann Arbor school board to continue funding creative writing
By Kyle Feldscher
A popular Pioneer High School teacher may no longer be paid for the work he does at a local teen center as the Ann Arbor Public Schools' creative writing program feels the effects of budget cuts.
Jeff Kass, a leader in the school's creative writing community, is slated to be moved from a full-time employee to a .8-full-time equivalent, meaning he will get paid four-fifths of the salary of a full-time teacher.
Kass spends a portion of his normal work day at the Neutral Zone working on creative writing projects before returning to Pioneer to teach classes.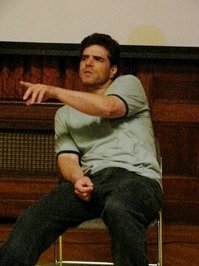 The district would no longer fund Kass's participation in the creative writing programs at the Neutral Zone, but Kass would still be involved in the programs and would still teach at the school.
Kass told the Ann Arbor school board that the time he spends at the Neutral Zone every day is really a full-time job that he does mostly for free. He said that if the board chooses to continue funding his participation in the programs, the position would be funded by outside sources in two years.
"I believe in writing and the power of the written word and I will promise this board that if you pay for this .2-FTE, it will be paid for within two years," he said.
The board did not take any action on Kass's position Wednesday.
A number of former students and supporters from around the country spoke to the school board, encouraging them to allow Kass to continue his work.
Aimee Le, a former student who now attends Dartmouth College, said the creative writing program in Ann Arbor was the initial reason why she began taking writing seriously. She is now a published author and intends to continue writing in the future.
She said the classes and programs might be optional courses but they are undoubtedly important to students.
"It's an elective, but it's the most important part of my education," Lee said of creative writing.
Molly Raynor, a Pioneer alumna, said she has watched Kass build a program from the ground up and being a part of that program was what made her lose the disengaged feeling she had in high school.
She said the opportunities afforded to her through the Volume program at Neutral Zone, which included a trip to San Francisco to perform in a national poetry contest, allowed her to find what she wanted to do with her life.
"I knew I had found my calling and I was originally going to move back there and be a teacher, like Jeff Kass," she said.
Although Kass and his supporters appealed to the board for help at Wednesday's meeting, it's unclear whether the trustees will have any say in his position.
The staffing decisions for each school are usually made by each building's principal, which means Pioneer principal Michael White is expected to have the final say in the matter. Board members gave no indication they were ready to get involved in restoring Kass's full-time status at Wednesday's meeting.
Kass used his time speaking to the board to renew the call for members of the community to take their concerns to lawmakers in Lansing. He said the cuts to education are threatening programs like his, which he ultimately believes better the lives of students.
"Education is under assault in this state and we all know it," Kass said. "I think it's time for all of us in this room to go to Lansing and tell the governor what he's doing."
Kyle Feldscher covers K-12 education for AnnArbor.com. He can be reached at kylefeldscher@annarbor.com or you can follow him on Twitter.