Posted on
Sat, Aug 17, 2013 : 2:50 p.m.
New life for dead trees: Urbanwood Project finds purpose in wood destined for scrapheap
By Lisa Carolin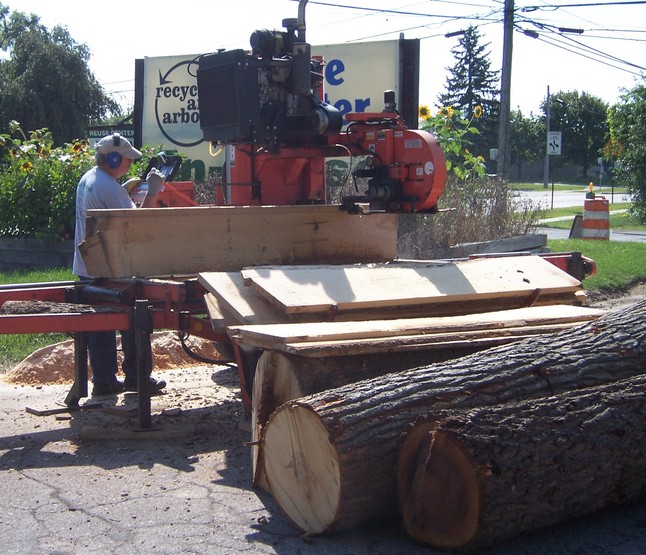 Lisa Carolin | For AnnArbor.com
A dead tree in the backyard may look like firewood to most people but to
Dianna Tervol
it looks like a lazy Susan, a beautiful piece of art or maybe even a kitchen table.
"This is what you can do with recycled wood instead of burning it," Tervol said Saturday as she displayed carved animals, simple boxes and the aforementioned lazy Susans.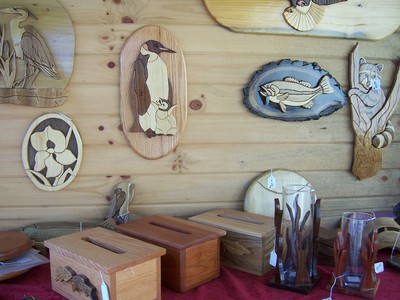 Lisa Carolin | AnnArbor.com
Tervol, of
Tervol's Wood Products
, was at
Recycle Ann Arbor's ReUse Center
on South Industrial Highway for
Sawmill Day
, an event of the
Urbanwood Project
, an organization that promotes use of wood that would otherwise be burned or discarded. The project works with several small businesses to market products and services that make use of such wood.
Saturday's event included the demonstration of a portable sawmill.
"At first glance, it's just very cool to see a sawmill operating in the middle of Ann Arbor," said Jessica Simons, coordinator of the Urbanwood Project. "Many people have never had the chance to see something like that before."
Tom Peretti, who does woodworking as a hobby, was impressed with what the Wood-Mizer portable sawmill from Tervol's Wood Products could do.
"It's creating beautiful boards," said Peretti, who agrees with the Urbanwood Project's philosophy. "I would rather use wood from a tree that had to be cut down."
Bob Baird and Rick Weid heard about Sawmill Day at their woodworking class at Washtenaw Community College.
"I read how they're able to use ash trees and have a casual interest," said Baird.
"We're taking advantage of a wasted resource," said Kelvin Potter, owner of Raven Farm Recycled Woodworks, an Urbanwood Project partner in Lansing, who says that the industry is turning more to using smaller logs. ""We take it one step further by salvaging material that doesn't fit industry standards."
Milling urban trees is labor intensive and time consuming because the trees must be sorted from other urban wood waste, cut to a workable size, scanned for metal and defects, and processed in small batches so the unique wood can be brought to its full potential.
Simons said, "Most people think of a dead yard tree as simply a source for firewood. Thanks to the Urbanwood Project, it could become your next kitchen table. Even if a tree is killed by something like the emerald ash borer, the wood is often still of very high quality."
The Urbanwood Project began in 2006 as part of Recycle Ann Arbor and the Southeast Michigan Resource Conservation and Development Council's efforts to help communities affected by the emerald ash borer. Logs recovered from southeastern Michigan's communities could produce enough lumber to build 5,600 homes a year according to Michigan State University's Department of Forestry.
Rather than let the logs become firewood or mulch, the Urbanwood Project reclaims the wood for higher-value uses. Simons calls the operation at the ReUse Center "the local farmers' market for wood."