Posted on
Thu, Aug 29, 2013 : 2:59 p.m.
Portion of Longshore Park being turned into temporary overflow parking lot for Argo Cascades
By Ryan J. Stanton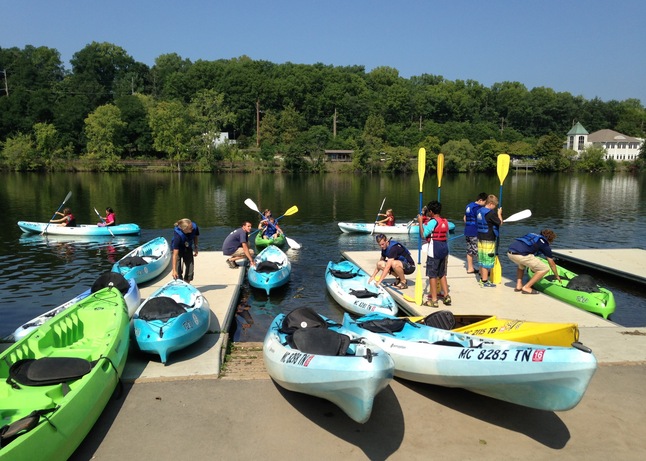 Ryan J. Stanton | AnnArbor.com
With the
Argo Cascades
on the Huron River still
gaining in popularity
, Ann Arbor park officials are taking steps to create more parking spaces for visitors.
On recent weekends, both the parking lot next to the Argo Canoe Livery and an overflow lot the city leases up the road have been at or near capacity, while cars have lined the streets.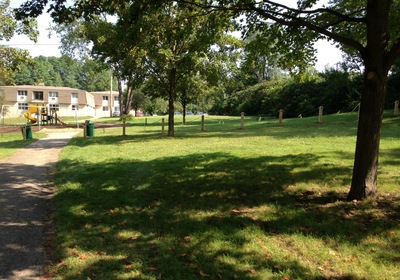 Ryan J. Stanton | AnnArbor.com
Now the city parks department is creating another temporary spillover lot on a grassy portion of Longshore Park, directly across from the rented lot along Longshore Drive.
Crews were out this week driving 20 wooden posts into the ground to divide the new parking area from the playground area. Those posts are now linked by chains.
The lot isn't yet in use, but it could be this weekend, said Colin Smith, the city's parks and recreation manager.
The new parking area will provide about 42 additional parking spaces for park users on weekends and holidays during canoe livery operating hours from 9 a.m. to 9 p.m.
That's in addition to the roughly 60 spaces at the Argo Canoe Livery and boat launch area and roughly 40 rented spaces up the road.
No concrete is being poured — the new parking area will remain grass, Smith said, and city park officials will be closely monitoring the ground conditions to minimize damage.
"This will be used for the remainder of this season and possibly next season on weekends and holidays only to help with the overflow parking that we need," Smith said, adding parks staff will begin exploring longer-term parking solutions this winter.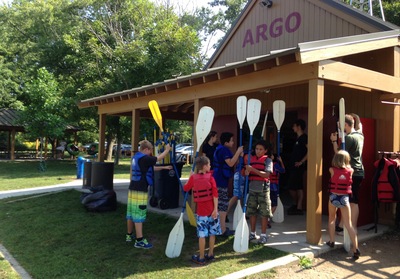 Ryan J. Stanton | AnnArbor.com
Elizabeth Moss
, who lives in a condo near Longshore Park, said she was alarmed to see nearly half the park being fenced off for parking this week.
"I live right up the hill and use that park every day — it's a beautiful park in the fall," she said, worrying that a permanent parking lot there would a short-sighted solution.
After she and her neighbors received a notice in the mail on Wednesday saying it would be only a temporary measure, she said said it's not as bad as she originally feared.
The letter that went out to neighbors noted the livery saw about a 50 percent increase in visits in July 2013 compared to July 2012.
"Consequently, as you've no doubt experienced, parking demand at the livery and on the roads near it is over capacity," the letter stated, adding the new parking lot should help with congestion in the park and illegal parking along Longshore Drive, while keeping the majority of the park open.
The portion of Longshore Park that will be used does not have any programmed recreational activities and is lightly used, the letter noted.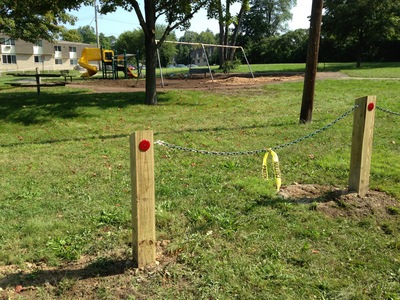 Ryan J. Stanton | AnnArbor.com
Parks staff is expected to facilitate parking in the park, handle trash pickup and evaluate conditions for upkeep and maintenance. It will be used only after other spaces are full, Smith said.
Smith said staff will be making sure cars don't park too close to trees to prevent compaction of existing tree root zones.
At the conclusion of the livery season, city staff will fill in any depressions or ruts with top soil, and aerate and seed the entire parking area and any egress points.
The rules for the parking area prohibit overnight parking, consumption of alcohol in the park, parking RVs or buses, and parking on days when there is a high likelihood of rain or when prior storms have rendered the turf conditions unsuitable for parking.
City of Ann Arbor
Ryan J. Stanton covers government and politics for AnnArbor.com. Reach him at ryanstanton@annarbor.com or 734-623-2529. You also can follow him on Twitter or subscribe to AnnArbor.com's email newsletters.