Posted on
Mon, Jun 18, 2012 : 7:34 p.m.
New Eastern Michigan University women's basketball coach to earn at least $170,000 per year
By Kellie Woodhouse
New Eastern Michigan women's basketball coach Tory Verdi will receive $170,000 in compensation each year, a monthly vehicle stipend and possibly thousands of dollars in bonus money, according to his employment contract.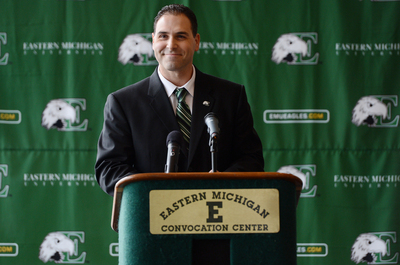 Melanie Maxwell | AnnArbor.com
The
contract
will be before the EMU Board of Regents for approval at its Tuesday meeting.
Verdi was named the new EMU basketball coach in late April. He has been an assistant coach at Nebraska and Kansas. He succeeds former coach AnnMarie Gilbert, who resigned from her position this year.
Last season, the Eagles advanced to their second-ever NCAA Tournament and won the Mid-American Conference Tournament championship.
Per his five-year contract, Verdi will receive a base compensation of $165,000 and an additional $5,000 for making radio appearances in association with his coaching position. Each season the women's team wins 20 games, the term of his contract will be extended one year.
He is set to receive a vehicle stipend of up to $500 per month and his assistant coaches will receive a $350 per month stipend. In May, Verdi named three assistant coaches: Rob Morris, an associate head coach for the men's program at Canisius; Eastern Kentucky assistant Candice Finley; and former WNBA player Kristin Haynie.
Verdi's contract outlines the following bonus incentives:
$5,000 if team is champion of its MAC division
$7,500 if team is MAC regular season champion, $7,500 if team is MAC tournament champion, or $12,500 if the team wins both.
$2,500 if team finishes among top-four MAC teams
$7,500 if team is invited at-large to the NCAA tournament
$7,500 per win in NCAA tournament
$5,000 if team receives invitation to post-season Women's National Invitation Tournament
$2,500 per win in WNIT tournament
$5,000 for each year coach is named MAC coach of the year
$15,000 for each year coach is named national coach of the year by Associated Press, ESPN, CBS or Fox
$2,500 for each season team is named in top 25 by AP or ESPN Coaches Poll
$5,000 for each season team is named in top 10 of ESPN mid-major poll
$15,000 for each season paid attendance averages between 3,000 and 3,999 per home game. (Average attendance for home games is less than 1,000.)
If Verdi receives just $10,000 in bonus compensation, he will join the ranks of top-paid EMU officials. Last year, the top 20 earners at EMU made $180,401 and up. Head football coach Ron English is the school's top earner, taking home $367,920 in 2011. Assistant football coach Phil Snow took home $214,481 and Athletic Director Derrick Gragg earned $196,466. Men's basketball coach Rob Murphy makes $210,000 per year plus incentives.
According to a recent New York Times article, the median salary for head women's basketball coaches is $171,600.
Kellie Woodhouse covers higher education for AnnArbor.com. Reach her at kelliewoodhouse@annarbor.com or 734-623-4602 and follow her on twitter.