Posted on
Thu, Feb 14, 2013 : 4:37 p.m.
How does a Michigan college education stack up? New scorecard compares state colleges to national peers
By Kellie Woodhouse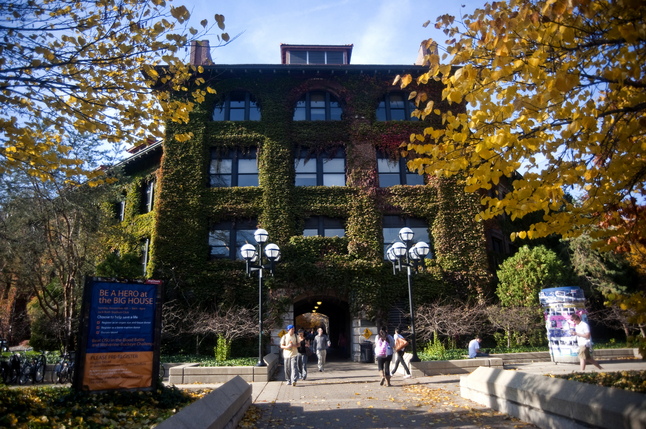 Joe Tobianski | AnnArbor.com
Want to know how a Michigan public college compares to schools in California or Texas?
It just got a whole lot easier to evaluate the essential performance of Michigan's 15 public colleges against their peers in the nation's 49 other states.
The non-profit Business Leaders for Michigan this week released a scorecard outlining how Michigan's 15 public universities compete with their peers in a swath of areas from state funding to enrollment to administrative spending to student performance.
According to the group's analysis, Michigan ranked 37th in per-student support for its public colleges. Michigan in 2009-10 awarded $5,683 per full-time student enrolled in a state college. The state ranked 37th in U.S. in higher education spending.
Meanwhile, it ranked fifth in the nation for the number of degrees produced by public universities. At 62,598 degrees, Michigan trailed behind California, Florida, Texas and New York. The state ranked fourth nationally in producing critical skill degrees, which include science, technology, engineering and math fields.
The scorecard also allows users to isolate how individual universities compare with their peers.
The University of Michigan, for example, is compared with other "very high research" volume public schools.
According to the database, U-M receives $8,357 in state funding per student, compared to the national average of $9,870 per student at other very high-volume research public universities.
Thirteen of Michigan's 15 public universities are below their peer average for state support.
The school spends $20,410 in instructional spending per student and $3,935 in administrative spending per student, compared to average per-student instructional spending of $12,112 and administrative spending of $2,486 at peer universities.
U-M's 6-year graduation is 90 percent, compared to an average graduation rate of 68 percent at peer schools.
The cost of attendance at U-M is $25,000 per year, versus an average cost of $21,275 among peers.
However the average U-M net cost—or amount a student pays after factoring in grants and scholarships— is $15,129 per student, compared to an average net cost of $13,366 per year among peer schools.
Ten of Michigan's 15 public colleges have a higher in-state net price than their peers.
Kellie Woodhouse covers higher education for AnnArbor.com. Reach her at kelliewoodhouse@annarbor.com or 734-623-4602 and follow her on twitter.