Posted on
Tue, Nov 22, 2011 : 11:29 a.m.
Post-Thanksgiving family swim offered at indoor Mack Pool; Ann Arbor named a 'smart city'
By AnnArbor.com Staff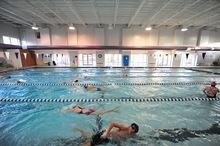 Ryan J. Stanton | AnnArbor.com
From a family swim at Mack Pool on the Friday after Thanksgiving to Ann Arbor being named one of the nation's "smartest cities," here's a roundup of some of the stories posted on AnnArbor.com's Community Wall over the last few days:
By: A2Parks: Mack Indoor Pool holiday hours, offerings
This Friday, Nov. 25, Mack Indoor Pool will have open / lap / family / tot time available in the morning from 7:15 to 8:15 a.m.
By: Peter Baker: Ann Arbor, Cambridge, Berkeley are smartest big cities
Seventy-two percent of all adults (25 or older) hold bachelor's degrees in Ann Arbor.
By: A2Park: Second public meeting regarding renovations to the plaza on South Forest Avenue
By: National Kidney Foundation of MI: 7th Annual Kidney Ball: Motown Magic
By: Hmm: Kappa Koney Closed???
By: Dawn Farm Education Series: "Hi, I'm 'Pat' and I'm an alcoholic ... "
By: Jonathan Wilson: Uproar Communications Collects Some Much Needed Cell Phones for Soldiers
By: Julia Armbruster: Bowling Benefit for Mary Armbruster
By: Basil's Buddies: Low-Cost Microchipping Clinic and Animal Adoptions
By: Kristy Short: Anti-Bullying Crusader, Kristy Short, Returns to Creekside Elementary To 'Spread the Nice!'
Arbor.com's Community Wall is a spot for local people to post local stories, news and announcements. To post a story, sign in to AnnArbor.com, then go to www.annarbor.com/community and use the Got News? Tell Us function at the top to submit your news. If you have a photo to add, e-mail it to us at community@annarbor.com and we'll insert it into your story.