Posted on
Tue, Jan 22, 2013 : 12:46 p.m.
Power out for more than 1,300 customers south of Ann Arbor
By Cindy Heflin
Update: Power had been restored to most customers as of 1:50 p.m. Tuesday.
About 1,300 customers of DTE Energy south of Ann Arbor have been without power since about 3 a.m. Tuesday because of an equipment failure.
Crews have been dispatched to fix the problem and DTE expects it to be repaired by about 9:30 p.m. today, spokesman Scott Simons said.
The outage area straddled Carpenter Road in Pittsfield and York townships, stretching roughly from Michigan Avenue on the north to south of Stony Creek Road, according to the DTE Energy Power Outage map.
An equipment problem on one of the circuits caused the outage, he said. He was unsure of the cause but said it could be related to the cold temperatures overnight. A temperature of 7 below zero was recorded at the Ann Arbor airport to the west of the power outage, University of Michigan weather observer Dennis Kahlbaum said.
Equipment issues cause a brief power outage for more than 6,800 customers on the east side of Ann Arbor Monday, but DTE said it was not weather related.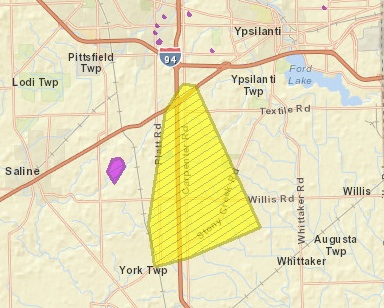 DTE map