Posted on
Thu, Dec 10, 2009 : 8:04 a.m.
Power restored to all but 1,000 customers in Washtenaw County
By Cindy Heflin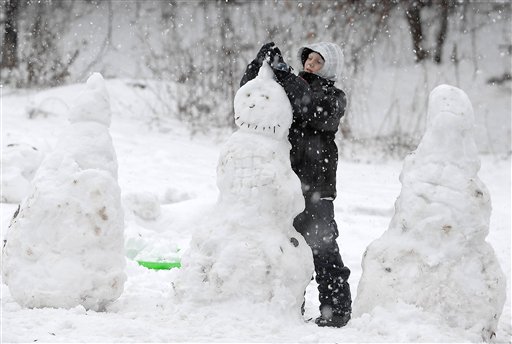 AP photo
Scattered power outages were still affecting about 1,000
DTE Energy
customers in Washtenaw County this morning, spokesman Scott Simons said following a
winter storm
Wednesday. The utility expects to have power restored to all those customers by late today, Simons said.
Outages canceled classes at four Ann Arbor Public Schools today: Forsythe Middle School and Dicken, Haisley and Wines elementary schools.
The storm, at various times packing rain, snow flurries and wind gusts of 51 mph, was blamed for a fire in a major power transformer at West Liberty Street and Maple Road that knocked out power to much of Ann Arbor's west side at about 6 p.m. Wednesday. At the height of the power outage, service was interrupted for 11,000 customers.
A power line came down across I-94 at Liberty Street, closing both sides of the freeway during rush hour Wednesday and snarling traffic in the area for hours. Numerous accidents and spin-offs reported on I-94 and other area roads. A downed power line also closed a portion of M-14 earlier in the day.
University of Michigan meteorologist Dennis Kahlbaum said Ann Arbor had received 4 inches of snow since Tuesday evening. He said about an inch of that remains on the ground.
A winter weather advisory remains in effect until 10 a.m. today. An additional 1-3 inches of snow is forecast for today with another inch possible overnight. Just before 8 a.m., the National Weather Service reported a temperature of 15 degrees and a wind-chill factor of 5 below zero at the Ann Arbor Municipal Airport.
Today's high will only reach 17-21 degrees. Overnight, temperatures will drop to 5 to 8 degrees with wind chills of 5 below zero. There's a 50 percent chance of snow overnight.
Friday will bring a chance of more snow and brisk winds with highs in the 20s.
Elsewhere in Michigan, residents dealt with blizzard conditions. The National Weather Service said Thursday the storm has delivered 13.5 inches of snow to parts of southwest Michigan, where a blizzard warning remains in effect and an additional 12 inches is expected by Friday evening. More than 15 inches has fallen in northern lower Michigan.
Michigan State Police said a 58-year-old Hartford man died Wednesday in a single-vehicle crash related to bad weather in Van Buren County.
CMS Energy Corp. says about 4,400 customers were blacked out Thursday, down from a peak of 50,000. DTE Energy Co. says about 13,000 customers remain without power across the state, down from 70,000.
Tina Reed contributed to this story.