Posted on
Sat, May 1, 2010 : 12:20 p.m.
President Barack Obama delivers commencement address
By Nathan Bomey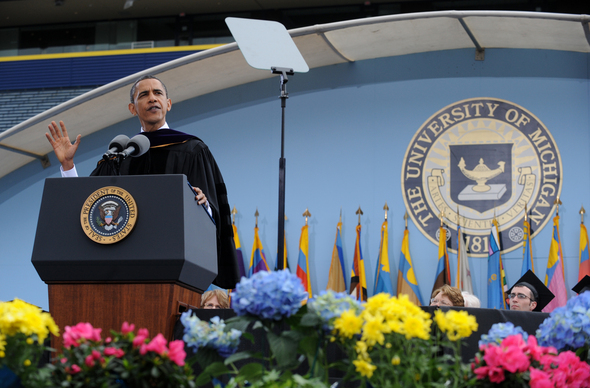 Melanie Maxwell | AnnArbor.com
President Barack Obama, speaking to more than 80,000 people at the University of Michigan's spring commencement ceremony today, sought to inspire graduates to embrace a broad worldview and proffered a pragmatic defense of the role of government in boosting the economy.
Obama called on citizens to recognize that government needs to play a role in boosting certain parts of the economy. His statements come as the White House is facing a groundswell of skepticism over the government's involvement in the health care, financial and auto industries.

"Sometimes regulations fail, sometimes their benefits don't justify their costs. But what troubles me is when someone says all of government is bad," Obama said.

The White House told the Associated Press that the crowd inside Michigan Stadium was Obama's largest audience since Inauguration Day 2009. The White House told Bloomberg the crowd numbered 92,000, but U-M said it was closer to 80,000 and 85,000.
Obama mostly stayed away from partisan issues, however, choosing to implore graduates to seek out a diverse range of viewpoints on various topics, mirroring their educational experience.
"Don't narrow that broad intellectual exposure just because you're leaving here," Obama said. "Instead, seek to expand it. Include people in your circle who have different backgrounds, different experiences."
Obama drew laughter several times with a variety of references.
"It is great to be here in the Big House, so may I say, 'Go Blue!" he said to great applause. He went on to acknowledge that it was a "cheap applause line."
In the inspirational spirit of most commencement addresses, the president said graduates must not take America's global dominance for granted. He said the students who sat in these seats many years ago weren't complacent.
"They made America possible through their toil, their endurance, their imagination and their faith. Their success and America's success was never a given," Obama said. "And there's no guarantee (future grads) will enjoy the same opportunities you do. You too will have to strive. You too will have to push the boundaries of what seems possible."
Obama largely avoided specific references to issues or people in Michigan, but he did acknowledge the presence of Gov. Jennifer Granholm and Ann Arbor Mayor John Hieftje. He said U-M, which spent $1 billion in research in 2009, more than 60 percent of it federal funding, is "a place that's doing life-saving research and catalyzing economic growth."
More than 8,500 students received U-M degrees today, as the university hosted a sitting U.S. president for the first time since George H.W. Bush delivered the commencement address in 1991.
The speech comes as the Obama administration is enduring an intense wave of criticism over its involvement in the economy. His successful push to pass health care reform legislation and his current campaign to reform the financial industry have drawn heat.
Today's grads will enter into the nation's worst economic crisis since the Great Depression, Obama said.
U-M President Mary Sue Coleman said U-M grads have a role to play in the nation's revitalization.
"As this nation works through an economic downturn, your contributions matter," Coleman said.
Granholm got more political, praising Obama for delivering more than $60 billion in emergency loans to distressed automakers General Motors and Chrysler to support their bankruptcy filings in 2009.
"Thank you for supporting our auto industry," Granholm said. "General Motors, Ford, Chrysler. They all have bright futures now, where one year ago much darker clouds than these moved over ahead."
Granholm also hailed the Obama administration's commitment of $1.35 billion in grants to support the production in Michigan of lithium-ion batteries for electric vehicles.
The university's student commencement speaker, Alex Marston, delivered a 4-minute crowd-pleasing speech, referencing Obama's 2008 presidential campaign that focused on introducing change to Washington.
But "there are some changes that cannot be spun in a positive light," he said. "After all, there is no deli in the world that can match the pastrami at Zingerman's. And no burger's grease is quite as delectable as the grease of a Blimpy Burger."
Contact AnnArbor.com's Nathan Bomey at (734) 623-2587 or nathanbomey@annarbor.com. You can also follow him on Twitter.